Giant 'lost' asteroid poised for one of closest-ever approaches to Earth
Published time: 15 May, 2018 11:06
Edited time: 16 May, 2018 09:11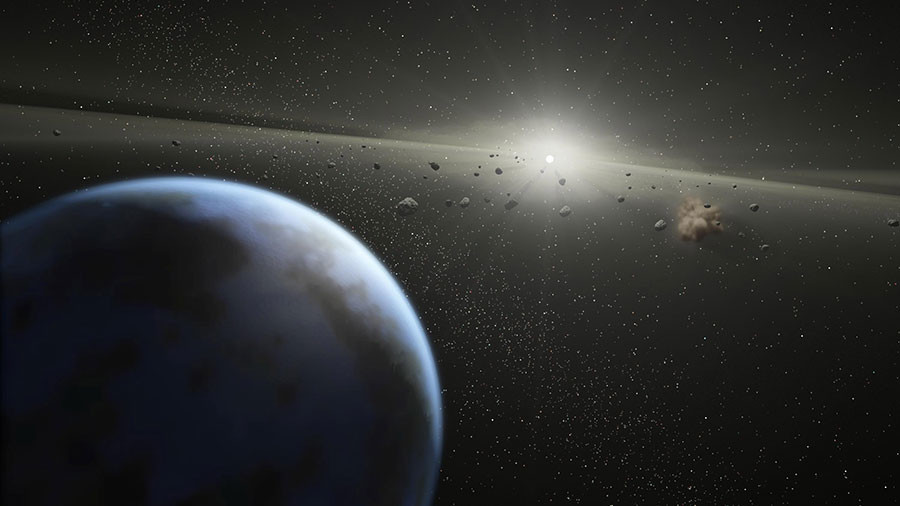 A 'lost' asteroid, at least three times the size of an object that burned up over the Russian city of Chelyabinsk in 2013, is heading towards Earth in one of the closest approaches ever observed in such an object of this size.
Asteroid 2010 WC9 is between 60 and 130 meters in diameter and is expected to pass Earth, Tuesday, at half the moon's distance. This is one of the closest flybys from an asteroid of this range of diameter, according to the International Meteor Organization.
Re-discovered on May 8th, 2018, 2010 WC9 is a 60-130 meter-large object than will pass at around 0.5 lunar distance from the Earth on May 15th, 22h 05min UT. Which is one of the closest flyby from an asteoid of this range of diameter. https://t.co/XkRYC0HfCApic.twitter.com/z9sj3ErJEZ

— IMO Meteor Org. (@IMOmeteors) May 14, 2018
READ MORE: Incoming!: NASA says 5 'close' asteroid flybys will take place today
The space rock is believed to be equivalent in size to the one that exploded more than 100 years ago in Russia's Tunguska region in Siberia – the largest impact event on Earth in recorded history. It's estimated to be at least three times the size of the asteroid that exploded over Chelyabinsk on February 15, 2013.
This asteroid does not pose a threat to our planet, however, and is expected to pass safely, making its closest approach at 22:05 UTC. It will not be visible to the naked eye but could get bright enough to be tracked by smaller amateur telescopes. Space enthusiasts in the southern hemisphere are expected to be most likely to catch a glimpse of the approach.
Northolt Branch Observatories in London will live stream the event on Facebook. It began sharing footage Monday to allow viewers to observe the asteroid in space before it whizzes past Earth.
The asteroid is travelling through space at a speed of 28,655 mph (46,116kph). According to orbit calculations made by NASA's Jet Propulsion Laboratory, the May 15 close approach is the closest of this particular asteroid in nearly 300 years.
The 'lost' asteroid was rediscovered on May 8, almost eight years after it vanished from observations. It was first discovered back on November 30, 2010 by the Catalina Sky Survey in Arizona, but disappeared soon after and its orbit could not be determined.
Like this story? Share it with a friend!