Shocking video shows terrified Yemeni children dragged from rubble after Saudi-led bombing (GRAPHIC)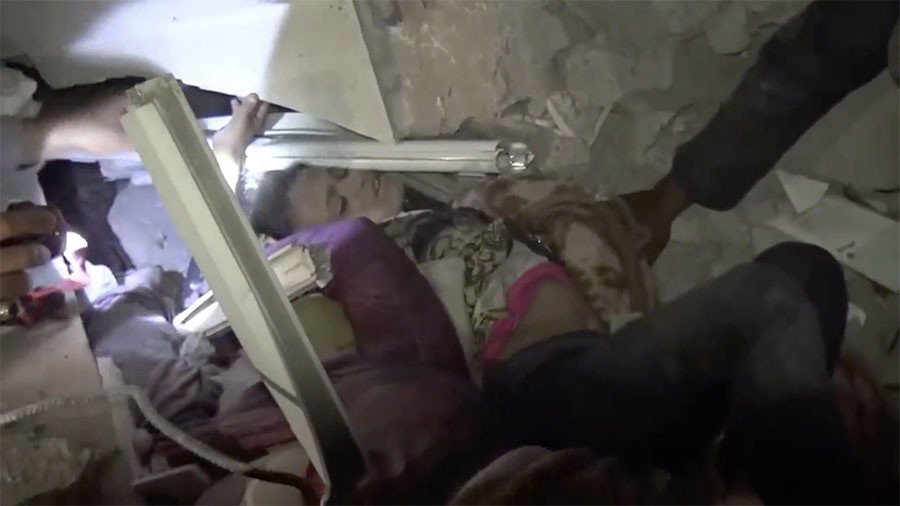 Distressing video footage has captured the moment rescuers scrambled to help Yemeni children trapped under piles of rubble following an airstrike. The agonizing scenes are the latest grim chapter in a war the West wants to ignore.
The children are victims of an attack on the Hamdan district of Sanaa, which Yemeni officials have blamed on the Saudi-led coalition that has been carrying out a military campaign for the last three years.
Children are seen crying for help and clambering to escape from under tons of concrete and twisted steel. Frantic adults are desperately trying to comfort and assist them as they scramble to free themselves from the wreckage of the destroyed buildings.
Yemeni officials say six people died and another six were injured in the strike which hit a house and a shop. They pointed the finger at the Saudi-led coalition which is supported by the US, the UK, Australia and NATO.
WARNING GRAPHIC FOOTAGE
While the war in Syria routinely leads news bulletins and captures headlines, the ongoing humanitarian disaster in Yemen is largely ignored by mainstream media. Unlike the bloodied and dust-covered boy who became the face of the Syrian conflict, these children in Yemen will never become the catalyst for a rallying cry to stop the war. Western governments have too much to gain from the carnage.
Both the US and the UK are now making more money from selling weapons to Saudi Arabia than ever before. More than a dozen EU countries sell weapons to the gulf nation and these deals appear to have gagged the Western media from highlighting Saudi actions in creating what the United Nations call, "the world's worst humanitarian crisis."
As well as its military campaign, Saudi Arabia is enforcing a food blockade – leaving approximately 80 percent of Yemenis (22 million people) in need of humanitarian aid. The World Food Program says that around 7 million of these are facing "famine like" conditions.
Like this story? Share it with a friend!
You can share this story on social media: