Relatives of soldiers read WWII letters, telling stories of families, loss and victory (VIDEOS)
Published time: 8 May, 2018 14:31
Edited time: 8 May, 2018 16:36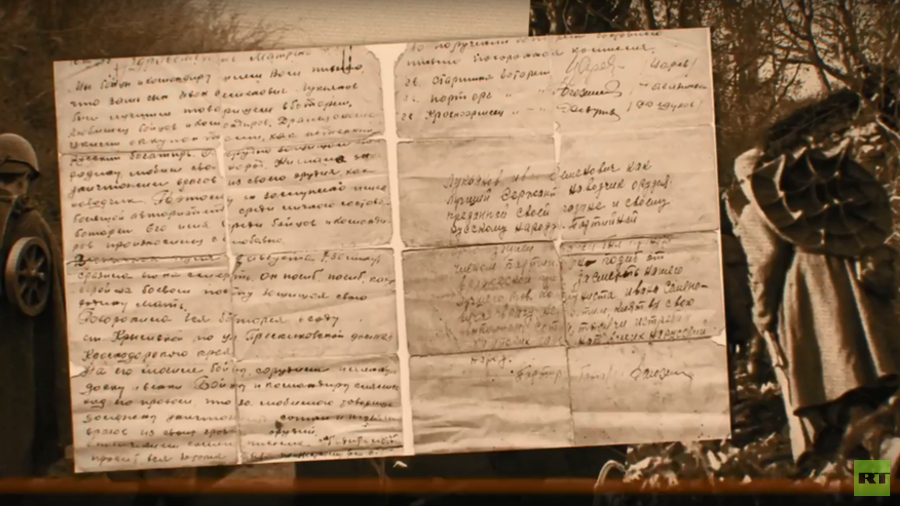 Before Victory Day, relatives of WWII soldiers read though letters sent by those who returned home from the conflict and those who never came back, while RT reads the letters that never arrived.
Relatives of Konstantin Safronov, a fighter pilot, read through his war-time letters. The yellowish paper sheets are kept in the family album, among pictures of Konstantin and his family members.
"You know I'm flying a fighter, and you're making other aircraft. But I can tell you on behalf of other pilots – these planes are great," Konstantin wrote to his relative who worked at an arms factory during the war.
READ MORE: Ride the Msta-S howitzer through Red Square in RT 360's V-day parade rehearsal VIDEO
The pilot was to be demobilized due to health reasons, but he insisted on staying in the Army and continued to fly. He was killed in 1944, when his plane was shot down and his parachute failed to open.
Another Soviet ace pilot, Victor Grubich, lost many of his close relatives which made the war very personal for him. The turning point of the war, when the Soviet troops started to push the Nazi invaders back, has become for him "a testimony to the strong will and patriotism of the Soviet Army and the whole Grubich family."
"It's hard to remember Uncle Korney and brother Eugeniy who died in Stalingrad suburbs during the bad times," the pilot wrote to his relatives. Victor fought through the war and returned to his family safe and sound.
"Anya, I haven't received a single letter for four months. And likely I won't receive any. Because we don't stay long in one place," Tatyana Vinogradova reads from a letter penned by her great-grandfather Pavel Shelkov to his wife. "Anya, don't miss me. Look after our boy. I won't be killed, if my fate is to stay alive."
The soldier's fate ruled otherwise, and Pavel never had a chance to see his wife and son again, getting killed in the line of duty in 1943.
Some war-time letters have never arrived, but were not left forgotten. Soldier Ivan Lukyanov died while fighting the enemy in the ranks of his artillery battery near the city of Krasnodar. His brothers-in-arms sent this message to his mother.
"He died like a hero, doing his duty and defending our Motherland. The entire battery buried him," reads the letter. The village where the mother of the fallen soldier lived was under the Nazi occupation.
Think your friends would be interested? Share this story!