'Incendiary kite' launch site in Gaza bombed by Israeli aircraft
Published time: 6 May, 2018 15:24
Edited time: 7 May, 2018 10:48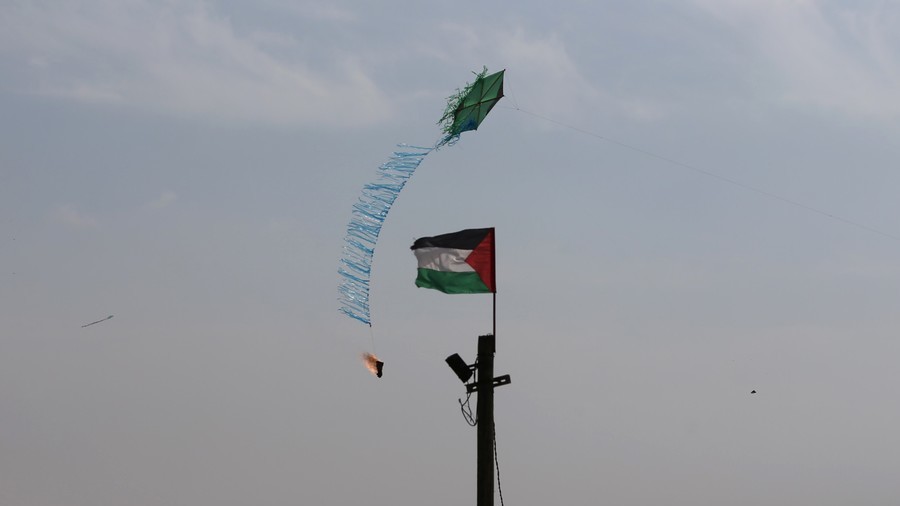 Israeli aircraft struck a site in Gaza where they say kites outfitted with flammable materials were sent by Palestinians during the ongoing Great March of Return protests, which were met with IDF tanks, drones, and snipers.
"At night, the Air Force conducted a strike on Hamas' terrorist position near the border at the northern part of the Gaza strip, from where the terrorists launched burning kites in order to ignite whole areas in Israel," the IDF said in a statement on Sunday, as quoted by TASS. No information on damage or casualties was immediately available in the aftermath of the airstrike.
READ MORE: 430 injured as IDF targets Great March of Return protesters – Palestinian Health Ministry
In a separate incident, Israeli troops opened fire on three Palestinians who "attempted to infiltrate Israel from the southern Gaza Strip," killing two of them. The IDF claimed the suspects were conspiring to damage "security infrastructure in the area of the security fence."
IDF troops fired towards the 3 suspects who attempted to infiltrate Israel from the southern Gaza Strip and to damage security infrastructure in the area of the security fence. Two suspects were killed

— IDF (@IDFSpokesperson) May 6, 2018
Palestinians have launched dozens of kites into Israeli territories over the past few weeks. The kites are outfitted with flammable materials designed for slow burning. Some of the kites have reportedly caused massive fires in Israeli agricultural fields.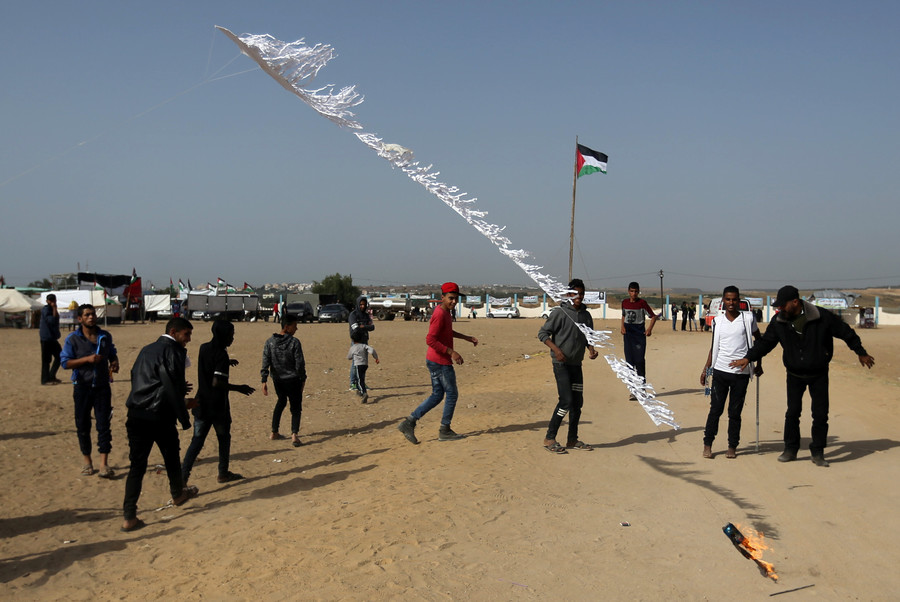 The kite launches came as part of the Great March of Return mass protests, which have been held weekly since March 30. Palestinians gather every Friday at the Gaza border fence in what they call an attempt to "return to their homes in towns and villages occupied by Israel in 1948."
Around 50 Palestinians have been killed during the protests, and thousands have been injured. The IDF targeted Palestinians with sniper fire, tear gas, and even tanks, citing security concerns and the need to "protect the border." Although some protesters have targeted Israeli troops with stones and set tires on fire, trying to approach the fence in the thick smoke, the protests have been largely peaceful.
The UN and humanitarian organizations have repeatedly urged Israel to exercise constraint and address the excessive use of force during the protests. Israel, however, claims that its military has been acting proportionately.
"Every week, we witness instances of use of lethal force against unarmed demonstrators," UN High Commissioner for Human Rights Zeid Ra'ad Al Hussein said in late April. "Warnings by the United Nations and others have seemingly gone unheeded, as the approach of the security forces from week to week does not seem to have changed."
Like this story? Share it with a friend!