Noodle diplomacy: S. Korea's Blue House serves up dish hailed by Kim Jong-un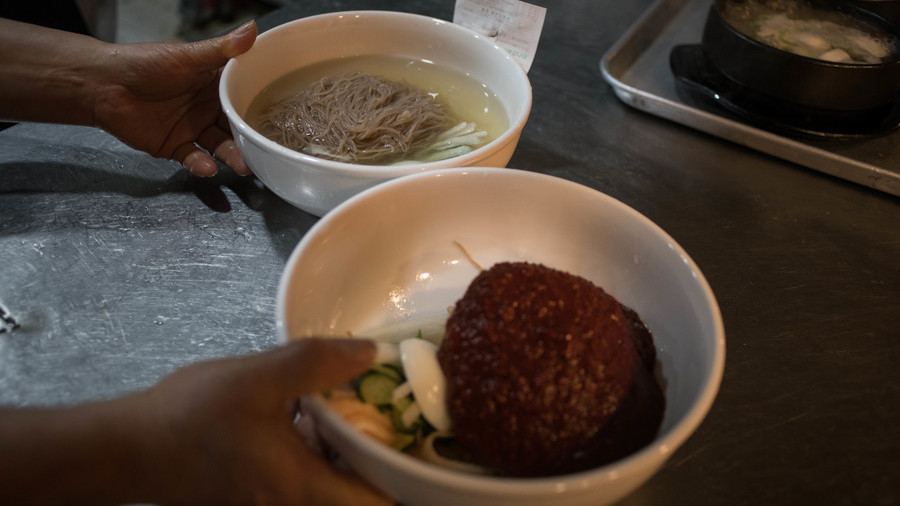 Just days after South Koreans waited in long lines to sample a North Korean noodle dish loved by Kim Jong-un, the presidential Blue House in Seoul is also serving up the meal.
Last week was a week for the history books. Kim visited the South, he got along with President Moon Jae-in, and the two leaders made serious progress regarding peace on the peninsula. But they say food is what truly brings people together.
In a friendly nod to the North, South Korea's Blue House is serving Pyongyang naengmyeon, a dish adored by Kim, in the building's canteen. "Cheongwadae [the Blue House] chefs cooked their own broth, and used 100 percent pure buckwheat flour to make the noodles," a tweet on the official account of President Moon Jae-in's office states.
The dish is being prepared in the traditional North Korean way, with chilled meat broth. It is topped with beef brisket, pickled radish, sliced cucumbers and half a boiled egg.
The noodles were brought by the North Korean leader during his visit with Moon last week. As Kim entered the South, he joked about smuggling them in for the summit.
Kim's affinity for the noodles sparked a frenzy in South Korea, with residents waiting in massive queues just to sample the dish. It also made waves on the internet, with the name of the dish trending higher on Twitter than the summit itself at one point.
Like this story? Share it with a friend!