Kim Jong-un cold noodle comments spark South Korean feeding frenzy
Published time: 27 Apr, 2018 16:30
Edited time: 28 Apr, 2018 09:02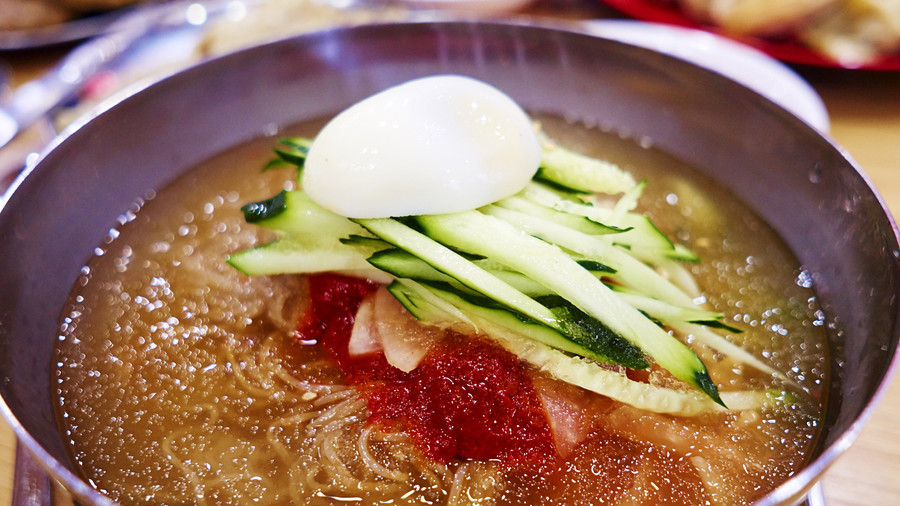 The two Koreas are entering a historic new era of peace and, it appears, mutual appreciation of cold noodles. The latter is all down to a recommendation from Kim Jong-un, which citizens south of the border are quickly embracing.
After both nations declared their intentions to denuclearize the peninsula, Kim decided to double down on the feel-good factor between the nations. As he made the highly symbolic crossing into South Korea, the north's leader joked about smuggling in some of North Korea's famous cold noodles for the summit.
Important diplomatic developments between the Koreas -> symbolic ground-level response of long queues for Pyongyang cold noodles (냉면 / naengmyeon) in South Korea. Just thought this was interesting. pic.twitter.com/Z2jOQ0TIQx

— 아이스 배어🍐 (@myouiwaddles) April 27, 2018
"We've made efforts to bring Pyongyang naengmyeon all the way from Pyongyang. So, hopefully, Mr President can enjoy Pyongyang naengmyeon from afar, though I suppose I mustn't say 'afar' now," said Kim, according to Reuters.
READ MORE: New era, no more war: Two Koreas agree on complete denuclearization
The comment, innocuous as it may seem, sparked something of a frenzy south of the border, with South Koreans clamoring to get their mouths on Pyongyang Naengmyeon's cold buckwheat noodle dish.
Just came up for breath after doing interviews about the #InterKoreanSummit & happy to see that Pyongyang naengmyeon — cold noodles from the North Korean capital — are trending on Twitter right now. #omnomnom

— Kelly Kasulis (@KasulisK) April 27, 2018
Queues formed around the corner from Seoul restaurants, while the digital word of mouth spread on social media. Term is trending higher on Twitter than the summit itself.
Known as Raengmyun in North Korea, the handmade cold buckwheat noodle dish is served in a flavoured broth of beef, pork and chicken, topped with Kimchi, cucumber and pickles.