Mystery 'adversaries' jamming US gunships & disrupting communications in Syria – general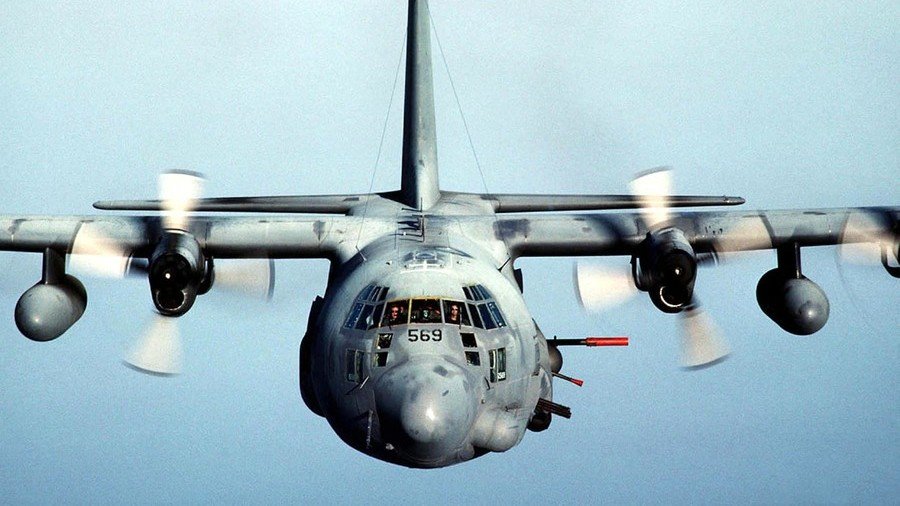 The US has experienced "aggressive" electronic warfare from its "adversaries" in Syria, a top US general said. While media pointed finger at Russia, it denied involvement, saying it has better things to do than harass US aircraft.
The claim was made Tuesday by the head of the US Special Operations Command (SOCOM) Army General Tony Thomas. The "daily" interference in Syria disrupts US military communications and hampers aircraft missions, the general told the US Geospatial Intelligence Foundation's 2018 GEOINT Symposium.
"Right now in Syria, we're in the most aggressive EW [electronic warfare] environment on the planet from our adversaries," Thomas said. "They're testing us every day, knocking our communications down, disabling our AC-130s, et cetera."
Some reports suggested that Thomas was referring to the EC-130H Compass Call. The EC-130H is an aircraft specifically designed to counter and wage its own electronic warfare, and if the machines were rendered inoperable by some "adversaries" on their own field, it would have been quite an embarrassing revelation.
Footage of his speech, however, clearly shows that Thomas was talking about the AC-130 close air support (CAS) gunships, which fall under SOCOM command. While the General did not point fingers at anyone, the media, which reported on his remarks, implied and even explicitly claimed that Russians were behind the electronic interference.
US Secretary of Defense James Mattis weighed in on Thursday, stating that he was not ready to pin the blame for the electronic interference in Syria on Russia. Apart from Moscow, Syrian government forces and Iranian servicemen are also present in the country, the official told the Senate Armed Services Committee on Thursday.
Moscow has firmly rejected allegations of its involvement. Russia "has other things to do in Syria" than tamper with US gunships, Deputy head of the Federation Council defense committee Senator Yevgeniy Serebrennikov stated, namely helping Syrians to achieve and maintain a peaceful life.
"I don't know who are they calling 'adversaries' exactly, but Russia has nothing to do with it, and all the allegations are unsubstantiated," the official said.
You can share this story on social media: