Sex-pest' skunk? Macron laughs off cartoon character mock-up in Aussie paper
Published time: 3 May, 2018 12:59
Edited time: 4 May, 2018 07:05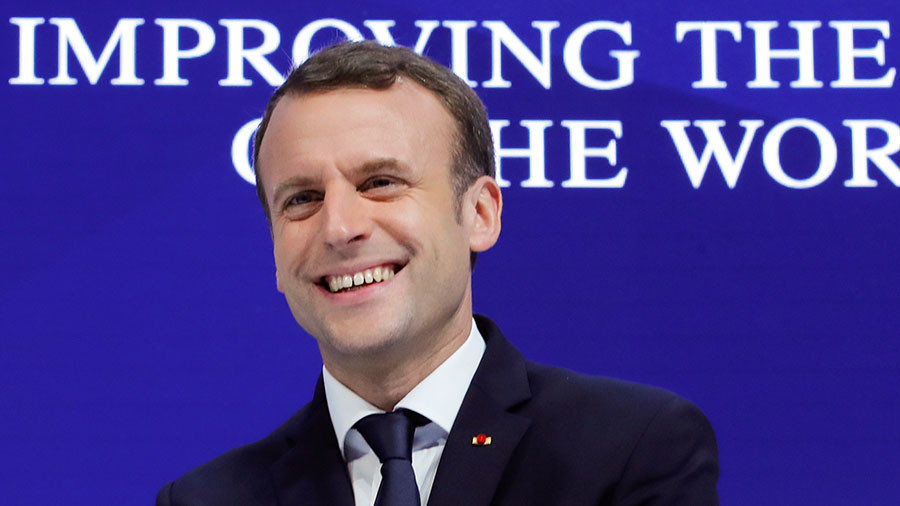 French President Emmanuel Macron has laughed off an Australian newspaper's front page mock-up of him as 'Pepe Le Pew' after a linguistic faux pas saw him call the wife of Aussie PM Malcolm Turnbull 'delicious.'
Macron made the tongue-twisting fumble at the end of an official visit Down Under. While speaking alongside Turnbull, Macron took the opportunity to thank the PM and his wife for their hospitality.
Speaking in English, the president said: "I wanted to thank you for your welcome. Thank you and your delicious wife." In his defense, it appears likely Macron probably meant to say "delightful." The French word "delicieux" can mean both delicious and delightful, but that didn't stop worldwide jokes at Macron's expense.
Naturally media outlets the world over had a field day, none more so than the Australian Daily Telegraph. It ran a front page article about the encounter, the image for which shows Macron as the notoriously love-struck French cartoon character skunk, Pepe le Pew.
"Emmanuel Macron has whispered in the ears of first ladies all over the world, charmed leaders with French charisma and even managed to sweet-talk Donald Trump," the front page reads. "Yesterday it was Sydney's turn as the handsy French president did his best impersonation of lovelorn cartoon skunk Pepe le Pew."
And while many Australian Twitter users took offense at the delicious remark, Mrs Turnbull was rather enamoured with the 40-year-old head of state. "Lucy was very flattered," Turnbull told reporters. "She's asked me to say that she found the president's compliment as charming, as it was memorable."
READ MORE: Trolling the bromance: Trump-Macron love-in sparks major meme meltdown