Brazil fire: 1 dead, dozens missing in Sao Paulo building collapse (PHOTOS, VIDEOS)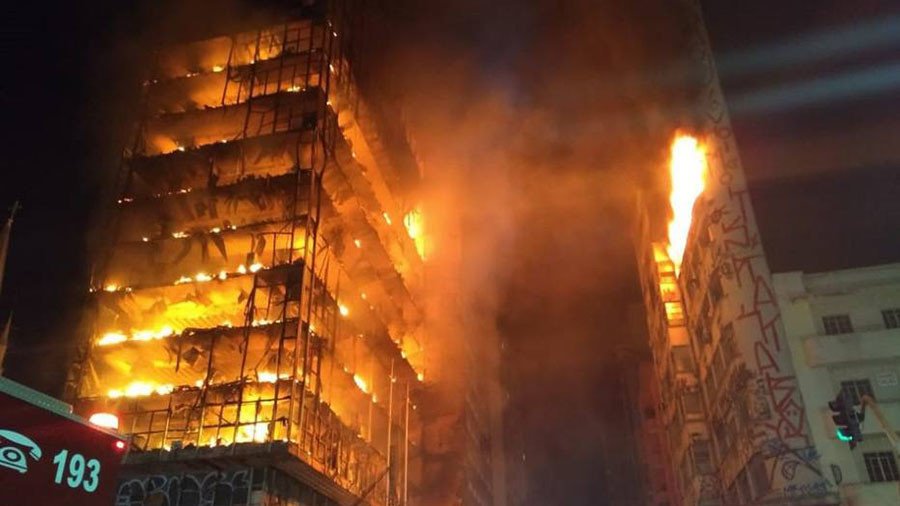 Dozens of residents remain unaccounted for after an enormous blaze razed a 26-storey building in Sao Paulo. Footage shared online shows the horrifying moment the fire-ravaged property suddenly collapses to the ground.
Only one person has been officially confirmed dead so far, a man who died while being rescued moments before the building came down. Meanwhile, the number of missing persons could be as high as 43, according to the Globo broadcaster. It's been reported that some persons have since contacted authorities.
The exact number of possible victims is hard to estimate, as the building was abandoned and reportedly was occupied by dozens of squatters, and it remains unknown how many of them could have been inside during the incident. The collapsed property was previously used by the Federal Police.
"There is not even a minimal condition for people to live in there," Sao Paulo state Governor Marcio Franca said, as cited by Reuters. "People live there in desperation. This was a tragedy foretold."
The massive fire struck two buildings in Largo do Paissandu on Tuesday, causing one of the properties to suddenly collapse. The city fire department deployed a total of 57 engines to bring the inferno under control.
The skyscraper collapsed at approximately 3am local time. Military police established a three-block security cordon around the site as a precaution and evacuated nearby buildings.
Images shared on Twitter by firefighters show the extent of the fire's destruction at the site. Rescuers said that, in order to avoid putting lives in danger, in the next 48 hours they will keep searching for possible survivors manually, before deploying any heavy machinery to clear the debris.
Think your friends would be interested? Share this story!
You can share this story on social media: