'He is my idol': Duterte cheers N. Korea's Kim despite branding him 'maniac' earlier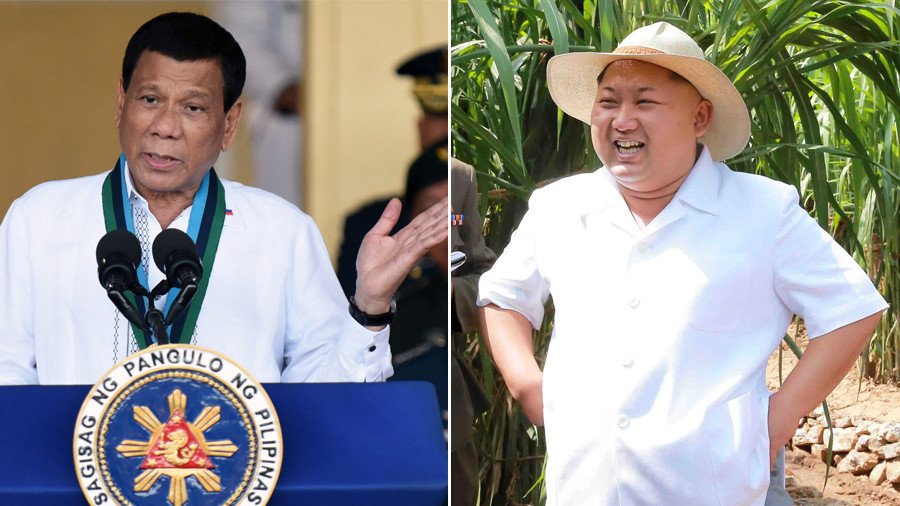 In a sudden change of heart, Philippines President Rodrigo Duterte called North Korean leader Kim Jong-un his "idol" and "a good fellow." Just a year ago, he labeled Kim a "son-of-a-whore maniac."
"He has become my idol, Kim Jong-un. For all of the time, he was pictured to be the bad boy of the community," Duterte stated. Now Kim appears to be a "amiable, jolly good fellow, and very accommodating," the defiant Philippines leader said, calling the North Korean a "hero of everybody."
"I hope he remains to be that way because nobody is really after him. Just a matter of historical divide which was created there."
Duterte, who is known for making controversial statements, went even further, saying that Kim will be "the man of the hour" one day. "And someday, if I get to meet him, I'd like to congratulate him.""I will tell him 'I admire you. You have a sense of timing.'"
The 72-year-old Philippines president seems to be radically shifting his approach towards Kim. In 2017, the North Korean leader was a "son-of-a-whore maniac" who could destroy Asia by triggering a nuclear war, according to Duterte. Calling Kim a dangerous man who is playing with dangerous toys, he warned to "not be fooled by his face, that chubby face that looks nice."
His change of heart follows a historic summit between Kim and South Korean President Moon Jae-in, who both signed a landmark declaration vowing a halt to hostile acts, denuclearization, and a push for joint talks with the US and China.
Duterte has a large portfolio of insults aimed at world leaders and high-ranking officials. His greatest hits include calling former US President Barack Obama a "son of a b**ch/whore" and telling him to "go to hell." He has recently called UN Human Rights Commissioner Zeid Ra'ad Al Hussein a "son of a whore" with an empty, big head. He also threatened to "burn down the United Nations" and called former UN Secretary-General Ban Ki-moon a "devil."
READ MORE: 'Throw them to crocodiles!' Duterte tells soldiers not to cooperate with UN human rights probe
The outspoken leader is currently involved in a confrontation with the International Criminal Court (ICC), which is calling for probes into Duterte's notorious war on drugs. In March, he announced that Manila would withdraw from the Rome Statute, the treaty that established the ICC.
Think your friends would be interested? Share this story!
You can share this story on social media: