'Avoid condoms, they're not pleasurable,' Duterte tells Filipinos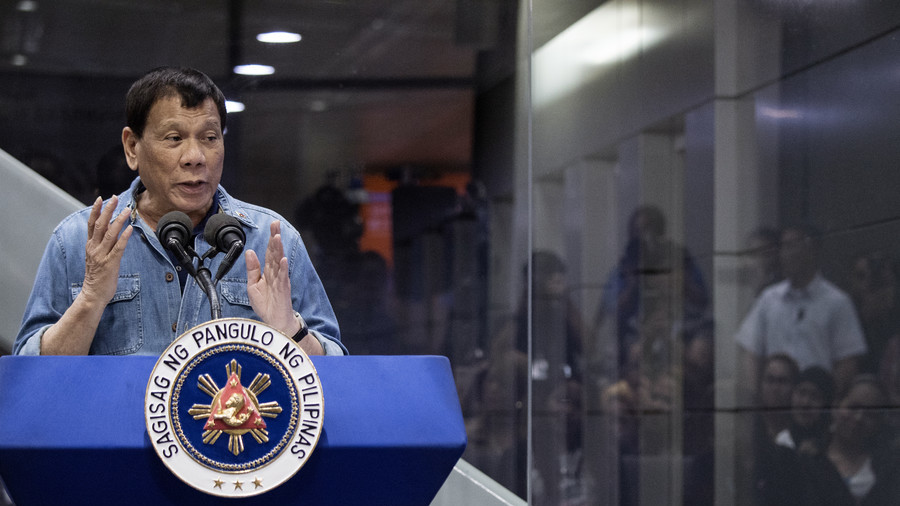 Outspoken Philippines President Rodrigo Duterte has once again courted controversy for an off-the-cuff remark in which he advised Filipinos not to use condoms, as they aren't "pleasurable."
"Avoid condoms because condoms aren't pleasurable,"Duterte said at an event with overseas Filipino workers from Kuwait on Tuesday. The Philippines leader advised instead that women use "free" contraceptive pills, a point which he illustrated using a wrapped piece of candy. "Here, try eating it without unwrapping it," he said. "Eat it. That's what a condom is like."
Duterte is well-known for his outlandish remarks, which have included rape jokes and politically incorrect humor about religion. As with his previous bizarre asides, the president came under intense criticism at home and abroad for advocating reckless behavior with regard to sexual health.
Not only has the Philippines long-struggled with the issue of unwanted pregnancy, owing to fierce opposition to contraceptives in the predominantly Catholic country, but it is also grappling with the fastest-growing HIV epidemic in the Asia-Pacific region, with cases more than doubling from 4,300 in 2010 to 10,500 in 2016, according to Rappler.
"President Duterte should stop making thoughtless, reckless, and irresponsible statements at the expense of public health," said Senator Risa Hontiveros in a statement published Thursday. "President Duterte seems to be overly concerned with pleasure. There is nothing pleasurable or funny about the rise in our cases of HIV and teen pregnancy."
"Instead of criticizing condoms as a pleasure inhibitor, Duterte should take meaningful action to protect the health of Filipinos by backing urgently needed policy changes to expand the accessibility and use of condoms in the Philippines,"said Carlos Conde, researcher for the Asia Division of HRW.
Two out of three new HIV infections occur among 15- to 24-year-old 'males who have sex with males,' or 'MSMs.' Condom use among MSMs has increased, from 36 percent in 2011 to 50 percent in 2015, but the rate of infection still remains high.
"Now let me clarify: We're not talking about those that are openly gay... What we're saying is any male who has sex with another male for whatever reason, is at risk for getting HIV based on our data," Genesis Samonte, chief of the DOH's Public Health Surveillance department said as cited by Rappler.
"The Philippines has become the country with the fastest growing HIV epidemic in Asia and the Pacific, and has become one of 8 countries that account for more than 85% of new HIV infections in the region," Health Secretary Paulyn Ubial said at a press conference last year.
Like this story? Share it with a friend!