Attack on the press? Philippines revokes license for major news outlet Rappler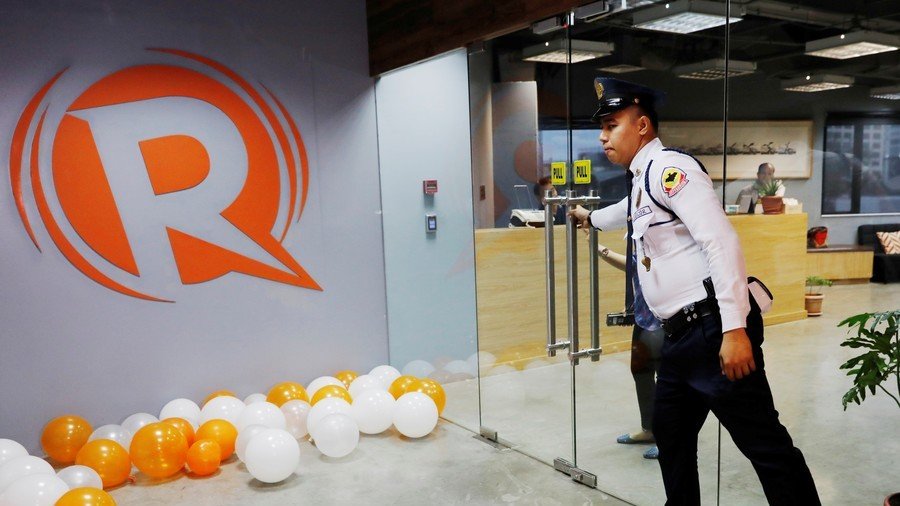 Major Philippines news outlet Rappler has vowed to continue its reporting after the government handed down a 'kill order' revoking the company's license to operate.
The ruling by the Securities and Exchange Commission (SEC), the nation's corporate business regulator, was made public on Monday. According to government officials, Rappler's license was withdrawn because of its failure to comply with media ownership laws, an allegation which the company denies.
The decision to wipe Rappler's certificate of incorporation stems from the news outlet's issuing of Philippines depositary receipts allegedly sold to foreign entities.
READ MORE: Philippines volcano alert raised to 'critical,' eruption possible 'within days' (PHOTOS, VIDEO)
"The constitution sets restrictions on the ownership and management of mass media entities to which all must abide," said a spokesperson for Philippines President Rodrigo Duterte.
"The issue at hand is the compliance of 100% Filipino ownership and management of mass media. It is not about infringement on the freedom of the press. No one is above the law. Rappler has to comply."
Rappler journalists have reported on the death toll of Duterte's drug war, as well as corruption allegations from within the government. In his 2017 'state of the nation' address, President Duterte questioned Rappler's operation, adding that the company would end up in American ownership.
SEC's kill order revoking Rappler's license to operate is the first of its kind in history.We intend to not only contest this through all legal processes available to us, but also to fight for our freedom to do journalism. https://t.co/F2Va1yFoxx

— Rappler (@rapplerdotcom) January 15, 2018
On Tuesday, Harry Roque Jr, presidential spokesperson, denied that the Rappler decision was an attack on press freedom.
"[The] truth is the reporter of Rappler is still in our press briefing. She is not being prevented from exercising her profession as a journalist," he said.
"None of the individuals behind Rappler will be prevented from performing their duties as journalists."
Rappler has labelled the government's decision as harassment "pure and simple".
READ MORE: Duterte wants 30,000 more troops to crack down on ISIS & other emerging threats in Philippines
"The SEC's kill order revoking Rappler's license to operate is the first of its kind in history - both for the Commission and for Philippine media," a Rappler statement read.
"What this means for you, and for us, is that the Commission is ordering us to close shop, to cease telling you stories, to stop speaking truth to power, and to let go of everything that we have built – and created – with you since 2012."
You can share this story on social media: