Philippines' Duterte rejects 'lousy' probe, accuses anti-graft body of corruption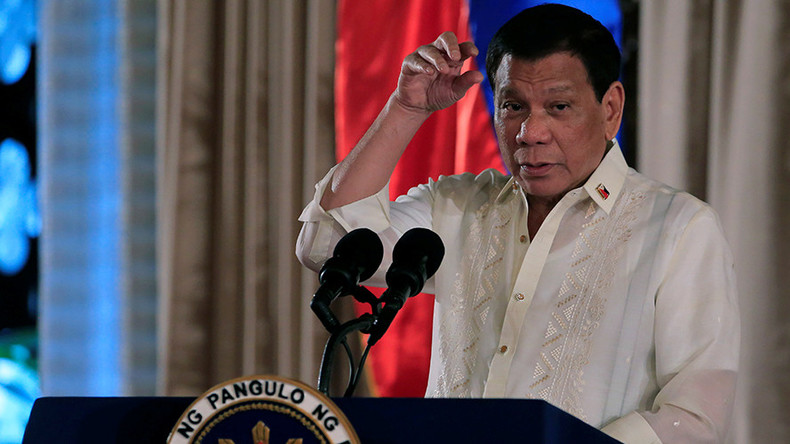 Philippines President Rodrigo Duterte says he won't cooperate with a special investigation into his alleged wealth by the national anti-corruption agency, accusing the body of "selective justice" and prioritizing him over more serious violations.
Last week the office of the Ombudsman confirmed it was investigating Duterte's financial dealings prior to his election as president in May last year.
"I will not submit jurisdiction to the ombudsman because it's a lousy thing," Duterte said in an expletive-laden speech in Davao City, according to Philippines news outlet Philstar.
The investigation was launched on the back of a complaint by Senator Antonio Trillanes who alleged that Duterte had amassed a personal fortune of 2.2 billion pesos ($43.1 million) between 2006 and 2015 and failed to disclose that money in his official assets declaration.
"[Ombudsman Conchita Carpio] Morales, you prioritize the case that has been filed for a long time. You are in on a selective justice, son of a b****. How come the complaints against us were prioritized? The complaints against us that are not true? I said it to your sorrow," the president added.
Duterte insisted that his family's income comes from legitimate sources and he said it amounted to no more than 40 million pesos ($785,000).
READ MORE: Change of heart? Duterte praises US as important ally, says will 'avoid cursing'
"All in all it would not go beyond 40 million, my lifetime savings. A part of that was my inheritance," Duterte said. "You have friends in the central bank… You can see it. I tell you, I will slap it on your faces."
The president accused the anti-corruption body of taking bribes to dismiss cases. Earlier, he promised to establish a commission to look into allegations of anomalies in the agency's work.
He also took aim at the Deputy Ombudsman Arthur Carandang, who announced the investigation.
"Just pray, Carandang," he said according to Philstar, "I'm not threatening you... If the Philippines goes to the dogs, I will deal with you first."
Duterte's tirade is in sharp contrast to the remarks of a presidential spokesperson who spoke last week about the president's willingness to cooperate with the investigation as he had nothing to hide.
"The president respects the internal processes of the Office of the Ombudsman as an independent body and trusts its impartiality in the conduct of its fact-finding duty," spokesman Ernesto Abella said, according to Reuters.
You can share this story on social media: