Belgian TV crew pelted with rocks in Brussels suburb (VIDEO)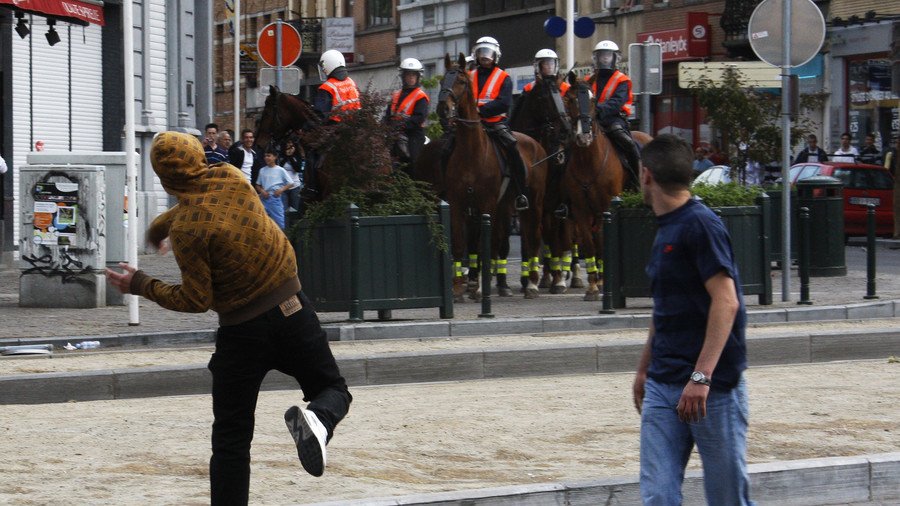 A Belgian TV crew has reported being pelted with stones while recording footage for a current affairs program in a troubled suburb on the outskirts of Brussels.
A cameraman from 'Terzake,' a daily Flemish current affairs show broadcast on the TV channel Canvas, captured the images in Peterbos, a neighbourhood of Anderlecht, southwest of the capital Brussels. The area has been the scene of a number of violent attacks on police and other public workers in recent times. "Our cameraman Ludwig was filming outside when he was suddenly pelted," said reporter Lauwke Vandendriessche.
READ MORE: 'Locking up foreigners': Human rights activists slam new immigration bill in France
Footage filmed from inside the program-makers' vehicle shows two hooded figures throwing stones from a distance. One man dressed in a grey tracksuit and dark sunglasses comes a little closer before firing a seemingly large rock at the passenger-side window.
Belgium's State Secretary for Asylum and Migration, Theo Francken, known for his anti-immigration stance, commented on the footage on Twitter, writing: "Young Arabs and stones…" However, the origins of the men pictured throwing the stones is not clear. No one has been arrested in connection with the incident.
READ MORE: End of multiculturalism? Swedes say immigration is top issue ahead of election
Earlier this month, three officers from Belgian transport company STIB-MIVB were attacked by a gang of up to 20 teenagers while checking tickets. Anderlecht Mayor Eric Thomas condemned the area's youth for what he said was their lack of respect for authority. "Some young people think they are all allowed and attack anything that represents the authority, be it the police, the communal services or the services of the STIB-MIVB," he told La Derniere Heure.
Chief of Police Patrick Evenepoel also weighed in on the incident, telling the 'De Ochtend' program on Radio 1: "The fact that our people are being attacked is a sign that we are not wanted there, and that something is really going on."
READ MORE: Migrants making 'terrorist confessions' to avoid deportation from Germany
Meanwhile, one suspect has been arrested and charged with attempted murder in connection with a series of incidents involving stone-throwing at police officers, according to Beligan broadcaster RTL. The investigation relates to an incident which occured on February 14 this year.
Think your friends would be interested? Share this story!
You can share this story on social media: