'Burying the body': Twitter goes smart-ass about Trump & Macron planting tree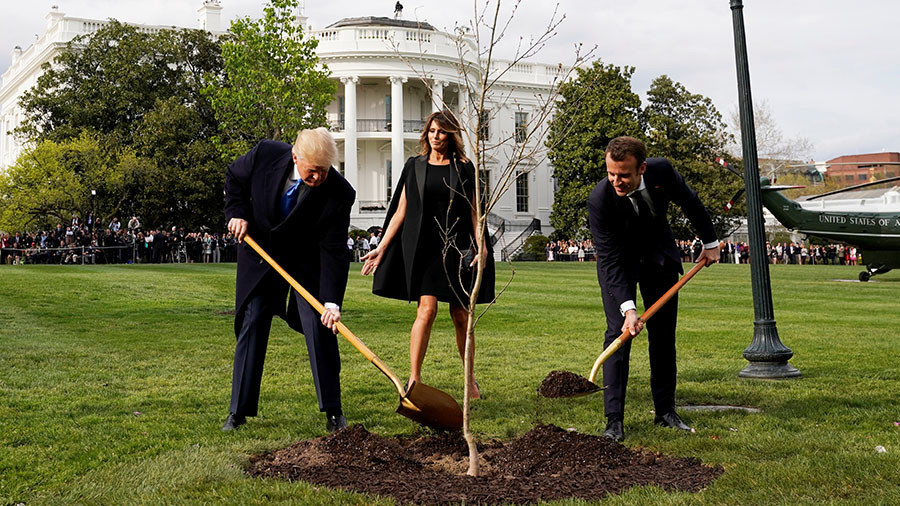 The French and US presidents have jointly planted an oak sapling, which Emmanuel Macron brought from a historic battlefield in Europe. The Twittersphere was full of jokes about the ceremony.
French President Emmanuel Macron brought a green present – a symbolic oak seedling – for his American counterpart Donald Trump on his visit to the US. The tree sapling reportedly comes from a place in the Champagne region, where US marines repelled a German offensive in the final year of World War I.
READ MORE: 'French connection': Macron & Trump's political bromance blossoming after Syrian strikes
The gift was planted during a ceremony attended by the two leaders and their spouses drew plenty of sharp comments on Twitter, where users offered remarks ranging from light-hearted jokes to stinging sarcasm.
Some said the ceremony looked like the two leaders were "burying a body," while others suggested that the body they were burying was actually the corpse of American democracy.
Despite Macron being very supportive of Trump's recent foreign policy moves and the decision to bomb Syria on April 14, some users suggested that the gift was just to troll Trump over his stance on Paris Climate Agreement. The accord has been one of the sore points in US-French relations since the US leader decided to pull out from the agreement in summer 2017.
Planting trees is a time-honored symbolic gesture in which many politicians participate during their career. Some of these events draw more attention than others, and some become tongue-in-cheek jokes involving the participants. For instance, Dmitry Rogozin, a senior government official involved in military procurement, planted two poplar trees near NATO headquarters in Brussels to mark his resignation from the position of Moscow's ambassador to the organization. Poplar in Russian is called "Topol" – the name of a family of mobile nuclear ICBMs – so Rogozin called the trees "Topol" and "Topol-M," just like the missiles.
You can share this story on social media: