Japan not satisfied with N. Korea's nuke test halt, wants 'complete & irreversible' denuclearization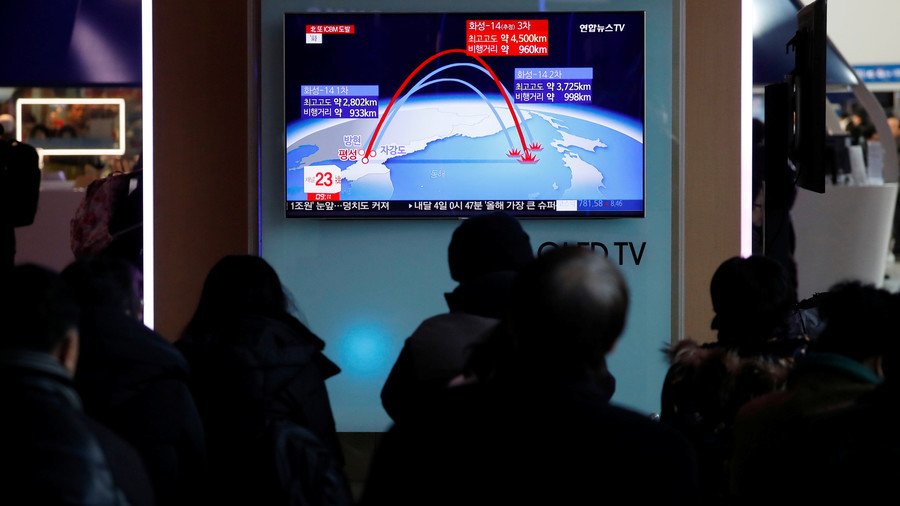 While South Korea has welcomed Kim Jong-un's announcement of the suspension of nuclear and ballistic tests, Tokyo, which strongly supports Washington's "maximum pressure" approach, voiced an extremely cautious optimism.
READ MORE: Path to denuclearization? North Korea announces 6 pivotal decisions
Japan, the United States and South Korea have been relentlessly striving for a complete denuclearization of the Korean peninsula, meaning of course only Pyongyang's nukes and not the US strategic bombers and aircraft carriers. Following months of productive talks with Seoul, Kim Jong-un announced a halt to any further nuclear and intercontinental ballistic missile tests, saying that North Korea's strategic deterrence program has reached its goal.
"North Korea's decision is meaningful progress for the denuclearization of the Korean Peninsula, which the world wishes for," the South Korean President's office said in a statement. "It will contribute to creating a very positive environment for the success of the upcoming inter-Korean and North-US summits."
Japan, however, was a bit more cautious with its assessment of the development. "This announcement is a forward motion that I'd like to welcome," Japanese Prime Minister Shinzo Abe said.
"I want to welcome these positive moves, but I wonder if this will lead to the complete, verifiable and irreversible dismantlement of its nuclear arsenal, weapons of mass destruction and missiles," Abe said. "I'd like to keep a close eye on the developments."
Japan's Defense Minister was even more skeptical in his remarks. "We can't be satisfied," Itsunori Onodera, was quoted as saying by the Japan Times, noting that Kim did not mention the "abandonment of short-range and medium-range ballistic missiles."
'Very good news & big progress!' Trump welcomes Kim's nuke test freeze announcement
Donald Trump has, meanwhile, welcomed the news, calling it a big progress and telling his Twitter followers that he is "looking forward" to the upcoming US-North Korea summit, which is being planned sometime after the intra-Korean meeting on April 27.
Like this story? Share it with a friend!
You can share this story on social media: