Israeli nationalists rage & burn Palestinian flag outside joint Memorial Day service (VIDEO)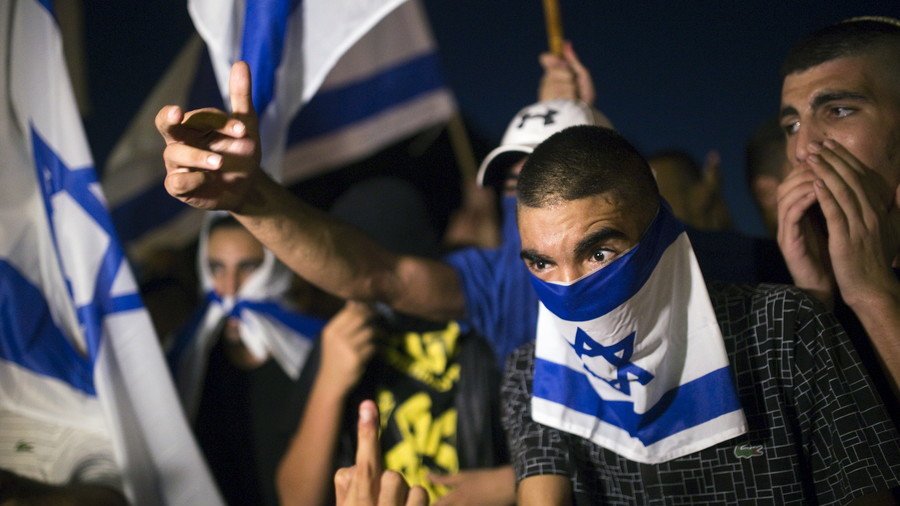 Far-right Israelis have tried to prevent thousands of Jews and Arabs from jointly attending an alternative memorial service in honor of fallen victims on both sides of the protracted Israeli-Palestinian conflict.
Around 8,000 Palestinians and Israelis assembled at Tel Aviv's HaYarkon Park on Tuesday evening to take part in a joint alternative Memorial Day vigil to honor the fallen family members on both sides of the decades-long feud. The peace activists also slammed Avigdor Lieberman's decision to ban some 110 Palestinians from attending the ceremony. Despite the Defense Minister's push to expel Palestinians, the Supreme Court ordered Lieberman to grant entry permits to 90 West Bank residents, although the order came too late for some to attend the ceremony.
"Traitors!" "Neo-Nazis!" Counter-protesters shout at visitors of the alternative Israeli-Palestinian memorial ceremony.Thousands have participated, including 90 Palestinians from the West Bank. pic.twitter.com/tK6HlrCQEJ

— Dana Regev (@Dana_Regev) April 17, 2018
Outside the ceremony, about 150 right-wing protesters demonstrated against the joint Israeli-Palestinian gathering. "Death to Arabs" and "Death to Terrorists," Lehava members chanted, trying to disrupt the vigil. Protesters also burned a Palestinian flag before lighting candles in memory of fallen Israeli soldiers.
The alternative Memorial Day event's organizers said that the far-right demonstrators also "hurled stones and bottles" at attendees. Police officers were deployed to disperse the protesters, according to the Times of Israel.
"Jewish power" and "no such thing as Palestinian people," read signs held by protesters outside of the Israeli-Palestinian memorial ceremony in Tel Aviv. pic.twitter.com/pI37q6EKUJ

— Dana Regev (@Dana_Regev) April 17, 2018
Lieberman, meanwhile, slammed the court's decision to allow Palestinians to participate. "The High Court of Justice created an equivalence this morning between bereavement and terrorism, between murdered and murderers," he said in a tweet. "The court's decision is an affront to this most stately and unifying day for the people of Israel. The end result is division instead of unity."
On Memorial Day, Israel remembers over 20,000 men and women who died defending the interests of the State of Israel since the start of the nationalist Zionist movement in 1860, as well as thousands of terrorism victims.
Like this story? Share it with a friend!
You can share this story on social media: