Putin to Arab League summit: Russia ready for joint work to help war-torn Iraq & Syria recover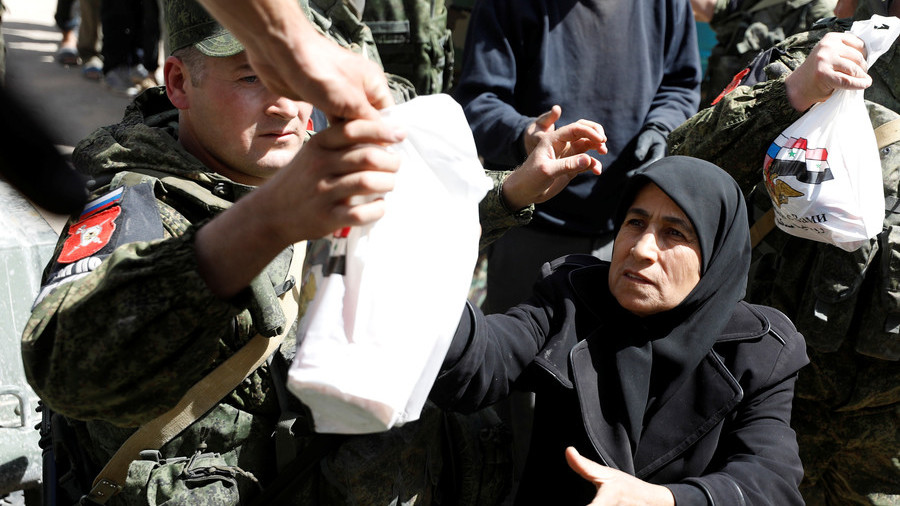 Moscow is prepared to join forces with the Arab League in an effort to help Iraq and Syria recover from protracted wars, Russian President Vladimir Putin said. He also urged that Arab nations' sovereignty be respected.
"Russia is ready for a multifaceted cooperation with the Arab League in order to ensure regional security," Putin said on Sunday in an address to the 22-member alliance. The Russian president said defeating Islamic State (IS, formerly ISIS) in many parts of Iraq and Syria provides an opening for "boosting political reconciliation and post-conflict reconstruction in these countries, [and] solving pressing humanitarian issues."
It is essential to continue combatting terrorism in the region, but "unconditional respect" of Arab nations' sovereignty and territorial integrity are also important, Putin stated, adding that it is impossible to make lasting peace in the Middle East without finding "a fundamental solution" to the Israeli-Palestinian conflict.
"The Russian stance remains the same," Putin said. "All issues relating to Palestinian territories, including Jerusalem, must be dealt with during face-to-face talks between Palestine and Israel."
His words come as members of the alliance convened in Saudi Arabia for the 29th Arab League summit. Syria and Iran are said to be the most pressing issues of the meeting, chaired by Saudi King Salman bin Abdulaziz, local media reported.
The address comes a day after a US-led bombardment hit Syria over an alleged chemical weapon attack launched by Damascus. Syria has denied the allegations and allowed inspectors from the Organisation for the Prohibition of Chemical Weapons (OPCW) to visit the site. The bombardment kicked off shortly before the fact-finding mission was due to begin its work. Putin called the action a flagrant violation of international law which only boosts instability in Syria.
Russia has spearheaded the peace process in Syria, along with its regional partners Turkey and Iran. In January, Sochi, Russia hosted the Syrian National Dialogue Congress. Over 1,500 delegates representing various Syrian groups were invited to participate in the talks. The peace conference was praised by UN Secretary-General Antonio Guterres.
In Syria, the Russian military is running the Reconciliation Center, a body in charge of arranging and safeguarding ceasefire agreements between the belligerents. Humanitarian pauses negotiated with the help of the center played a vital role in bringing peace to various parts of the country.
Like this story? Share it with a friend!