Shocking machete & nunchuck duel leaves trail of blood on Barcelona street (VIDEO)
Published time: 13 Apr, 2018 09:30
Edited time: 20 Apr, 2018 11:52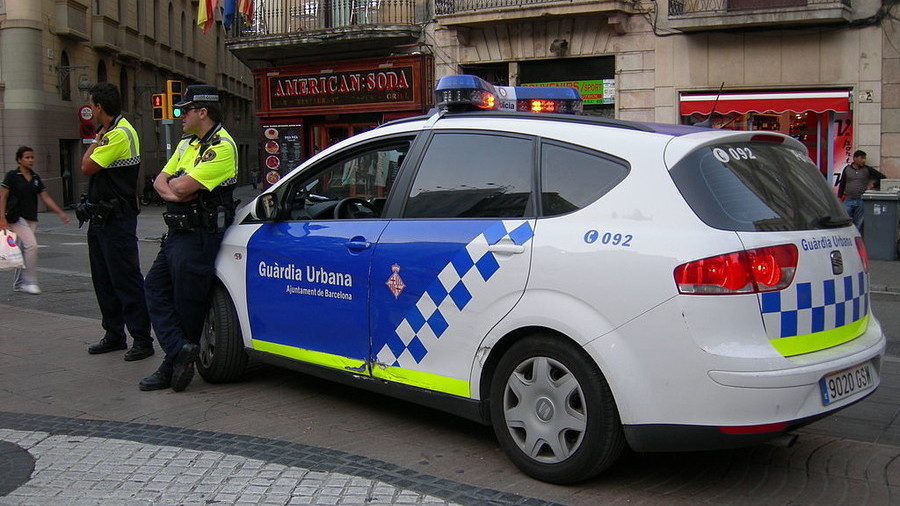 Horrified Barcelona residents filmed the incredible moment a dramatic armed duel kicked off between two men wielding knives, a machete and a set of nunchucks.
The dangerous stand-off occured on the busy Reina Amalia street in the Raval district of Barcelona's city center at about 8pm.
Video footage filmed from an apartment above shows the men facing off with weapons raised. One man, clad in a grey top, bears a silver knife in one hand, while his opponent, dressed in black, wields a large machete. Moments into the fight, a set of nunchucks falls from the latter's jacket.
La @barcelona_GUB ha detingut l'home del matxet que aquesta tarda s'ha enfrontat amb altre home que duia un ganivet i estava ferit en una cama. Ha passat al carrer Reina Amàlia al Raval de BCN. No han trascendit els motius. Els veïns han enregistrat aquestes imatges. pic.twitter.com/KyLxpFBbEA

— Anna Punsí (@punsix) April 10, 2018
The man in black slashes his rival in the leg, and blood starts to drip on to the street as the pair continue to circle one another. After he backs the wounded man against a wall, bystanders intervene and pull them away. The man with the machete puts the weapon back in its sheath before hiding it under his coat and walking away.
READ MORE: Protests erupt after detention of Catalan independence activist charged with 'terrorism'
The pair were soon arrested by the Guàrdia Urbana. The injured man, who stayed on Reina Amalia, received treatment for a 5cm (2 inch) wound before he was detained. The second man was arrested in the El Poble-sec area of the city for attempted homicide and injury, La Vanguarida reports. He had a cut on his face.
The dispute is believed to be related to drugs. The Raval is an area with a significant drug trade.
Like this story? Share it with a friend!