Threats against Syria are a violation of UN Charter themselves – Russia's envoy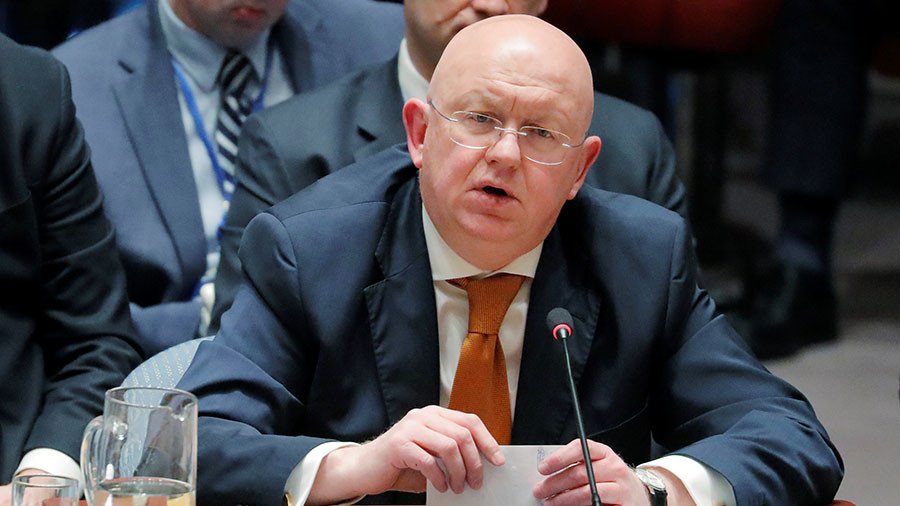 The threats to take military action against Damascus already constitute a violation of the UN Charter, Russia's envoy to the UN said, expressing hopes that the situation will not escalate beyond the "point of no return."
"The threat to international peace and security is a violation of the UN charter. We're very concerned with the situation, with this dangerous escalation. We hope that there will be no point of no return, that the US and their allies will refrain from military action against the sovereign state," Russia's envoy to the UN, Vassily Nebenzia, told reporters on Thursday.
The "immediate priority" for the UN must be "to avert the danger of war," the diplomat stressed, stating that since Russian troops are deployed in Syria, the conflict can easily spill out of the country in case of any foreign attack. The second most important thing is to ensure the work of the Organization for the Prohibition of Chemical Weapons (OPCW) specialists, who are expected to embark on their fact-finding mission on Saturday.
"You understand that the danger of escalation is higher than simply Syria, because our military are there on the invitation of the Syrian government, so the situation is very dangerous," Nebenzia said.
Russia advocates an open discussion in the UN on the situation around Syria and threats to "international peace and security." This discussion should be held with the participation of the UN Secretary-General, Nebenzia said. The diplomat did not give any details, but said such talks would be held in "the near future."
The situation around Syria has escalated over the past few days, following the alleged chemical incident in the town of Douma that was reported on Saturday. Pro-militant sources, namely the controversial White Helmets group, claimed that a chlorine-filled munition struck the area, killing and injuring dozens of civilians. The area that allegedly came under attack has since been surrendered by the militants. It was explored by Russian military specialists, who found no signs of chemical weapons use or victims of the purported incident.
While no solid facts on the alleged incident have emerged yet, it has been taken at face value by the US and some other Western countries, who squarely pinned the blame for it on Damascus and threatened to attack Syria.
Syria has firmly denied the accusations, urging the OPCW experts to come and explore the site of the alleged attack. Moscow has advocated the international investigation as well, warning it would shoot down any incoming missiles and target their launch sites.
If you like this story, share it with a friend!
You can share this story on social media: