Taliban seize 'safe' Afghan district weeks after Pentagon hailed progress under new Trump strategy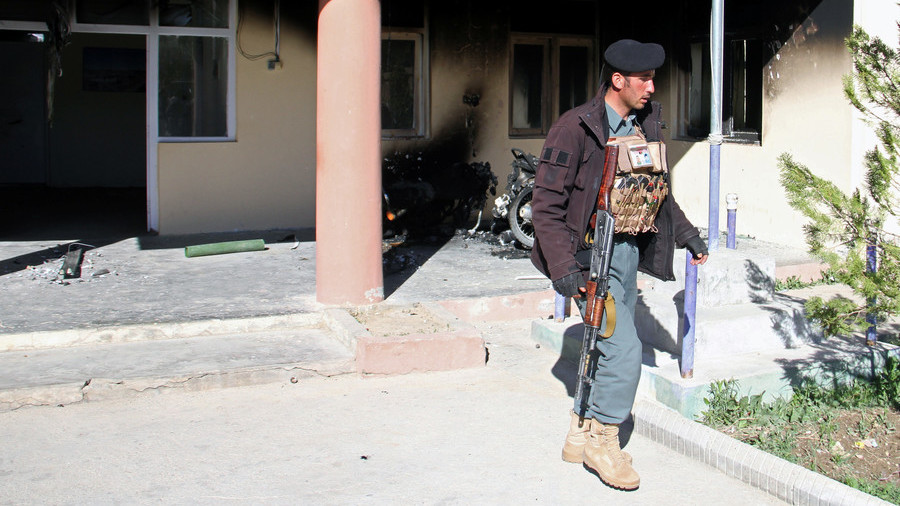 A district governor was killed in a Taliban raid in an Afghan region once considered relatively secure from attack. The Taliban now claims it controls key parts of the area – even as the US boosts troop levels in Afghanistan.
Taliban fighters killed the governor of Ghazni's Khawaja Omari district, Ali Dost Shams, as well as his bodyguards, seven police officers, and five government intelligence agents, according to a local police official. The Taliban also torched the district headquarters, the police official said, as cited by Reuters.
The Taliban claims that 20 police officers were killed in the attack.
Khawaja Omari was considered one of Ghazni province's safest districts, according to Reuters.
Taliban spokesman Zabiullah Mojahid said in a statement that the group now controls key parts of the district, including government and police headquarters. Provincial officials deny this claim.
The Taliban is known to step up attacks starting in the spring, when the weather allows for easier maneuverability through Afghanistan's mountainous terrain.
US President Donald Trump announced last year that he was implementing a new strategy that would bring a conclusive end to the 16-year war, warning that US operations in the country would not be undermined by "artificial timelines."
In February, an estimated 800 US soldiers arrived in the country to help with training and advising Afghan forces – adding to the nearly 15,000 troops already stationed in Afghanistan.
READ MORE: Pentagon scrubs Iraq, Afghanistan and Syria troop numbers from latest report
The initiative appears to have support from at least some of Washington's NATO allies. Last month, the German parliament decided to prolong the Bundeswehr's mission in Afghanistan and increase the number of troops stationed in the country. German Defense Minister Ursula von der Leyen later acknowledged that German forces will likely remain in Afghanistan for the foreseeable future, saying that "it is not a question of a time frame that must be stubbornly stuck to."
The top US general in Afghanistan, John Nicholson, said in March that Washington's 'new' approach was already showing positive results. The strategy, which calls for more air support and military advisers assisting Afghan forces, "will enable the Afghans to get on the offensive," Nicholson said.
The general also highlighted reconciliation efforts with the Taliban as vital to ending the conflict.
According to the Pentagon, the Afghan government fully controls 56 percent of the country's territory. However, the BBC reported in January that the Taliban is currently "active" in 70 percent of Afghanistan.
Think your friends would be interested? Share this story!
You can share this story on social media: