China hits out at US for authorizing submarine technology sales to Taiwan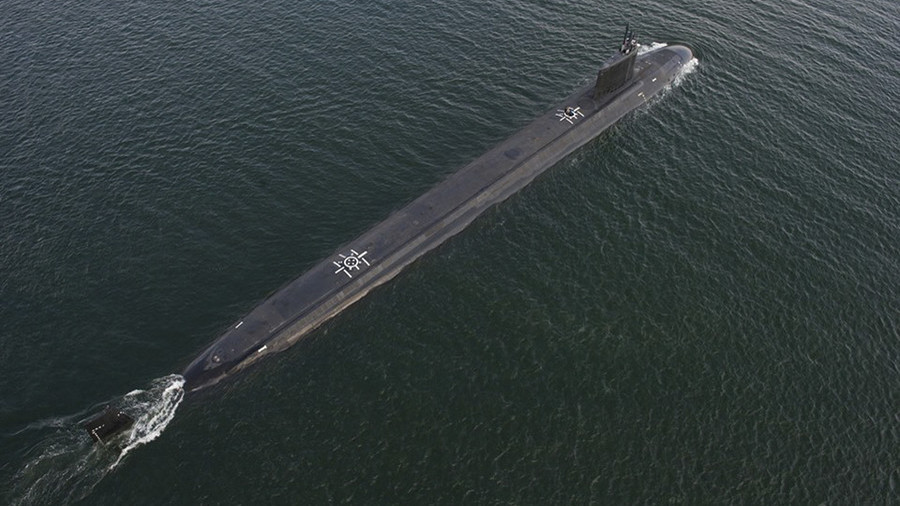 China has criticized Washington's arms sales to Taiwan, after the island said the US had authorized manufacturers to sell the licenses necessary for its domestic submarine project.
The Chinese Defense Ministry demanded a halt to "all forms of military contact between the US and Taiwan," stressing that the latter is part of China. The ministry also warned that the country has the "military ability" to counter any attempts to harm its territorial integrity.
"China's military has the ability and determination to defeat all attempts to separate our country, and will adopt all necessary measures to resolutely defend national sovereignty, security and territorial integrity," the ministry cited China's Defense Spokesperson Senior Colonel Wu Qiam as saying in an online statement issued on Saturday.
He also demanded that Washington abide by the 'One China' principle, which "serves as the political foundation for the China-US ties."
The same approach was echoed by the country's Foreign Ministry, which said that cutting arms sales to Taiwan would "prevent severe damage to Sino-US ties" and secure the stability of the so-called cross-Straits relations between Beijing and Taipei.
On Saturday, Taiwanese authorities said that the US Department of State had greenlighted the selling of technology that will enable Taiwan to build its own domestic submarines. The news was announced by Taiwan's Central News Agency, which cited Ministry of National Defense (MND) spokesman Chen Chung-chi and Presidential Office spokesman Sydney Lin.
Taiwan has long been a flash point in US-China relations. Notably, Washington has never agreed to end arms sales to Taiwan and even said that it does not need consultations with Beijing on the mater, according to the pillars forming US-Taiwan bilateral relations – the Taiwan Relations Act, Six Assurances and Three Communiqués.
The arms sales could boost separatist sentiment on the island, which could lead to "military consequences" as mainland China would immediately deploy troops to curb a separatist riot, Moscow-based professor at the Peoples' Friendship University of Russia, Yury Tavrosky, told RT. The US move could draw "open military actions" as Taiwan has always been the most sensitive topic for Beijing, according to the analyst.
"The Americans are walking on two legs – on the one hand there are trade provocations, on the other there is a very serious military provocation," Tavrosky said, adding that recently there was another arms sale "decision.""It is also a very unpleasant move for the Chinese and I'm afraid that there might be grave implications in the nearest future."
The professor also stressed that unlike his predecessors, US President Donald Trump started his tenure with "playing the Taiwan card," while previous administrations maintained the 'One China' policy despite arms sales never having stopped. The shift in US policy towards Taipei is also reflected by the recently passed bill allowing US officials at all levels to travel to the island as well as Trump's phone call to Taiwanese President Tsai Ing-wen, Tavrosky noted.
"China is becoming more and more sensitive when it comes to international affairs but it can do little about this particular issue [US-Taiwan arms deals] because Beijing is currently more engaged in another economic development regarding US attempts to revise trade tariffs, which has more practical value for China," the director of Eastern Asia Studies at the State Institute of Foreign Relations in Moscow (MGIMO), Aleksandr Lukin, told RT.
"It's more of a matter of prestige for China because it plans to reunite with Taiwan one day and the US selling arms to it is harming this plan."
READ MORE: Enter Bolton: Trump's new security adviser comes with chemical casus belli on hand
Notably, recently appointed US National Security Advisor John Bolton could visit Taiwan in June, according to the Economist. If the visit takes place, it would not be the first time Bolton has set foot on Taiwanese soil. In 2009, the long-time "friend to Taiwan" met then President Ma Ying-jeou, and Bolton's recent promotion was lauded by Taiwanese media as a sign of possible challenge for Beijing's 'One China' policy.
The possible visit has been already commented on by the state-sponsored Global Times newspaper. "The Taiwan question could be the most dangerous" despite the rapidly developing trade war, Da Wei, director of the China Institute of Contemporary International Relations' Institute of American Studies, told the newspaper. He also stressed that attempts to use the independence-seeking region to challenge mainland authorities could lead to "intense confrontations."
You can share this story on social media: