Wrong way: Silo smashes into cultural center as demolition plan fails (VIDEO)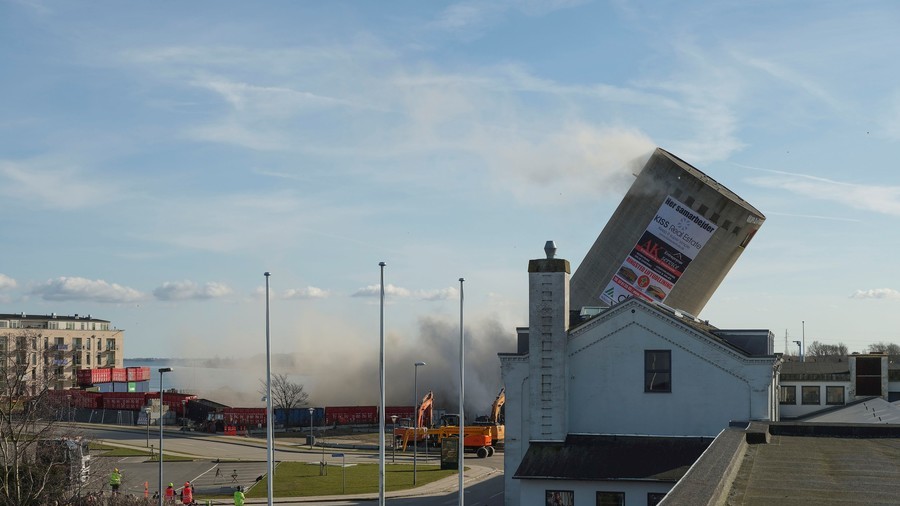 The controlled demolition of a 53-meter disused cement silo in Denmark went spectacularly wrong in front of hundreds of spectators, when explosives pushed the building in the wrong direction, crushing part of a cultural center.
Vordingborg Mayor Mikael Smed said that, thankfully, there were no injuries since the town's Cultural Market adjacent to the blast site had been cleared of people beforehand. "I was as shocked as all the many others who had set up in a safe distance to witness the blast as the silo suddenly overturned the wrong way,"Smed said. "Fortunately, the Cultural Market was one of the safety-restricted areas, so no people stayed in the building."
The shocking incident occurred on Friday, with management of the arts and library building announcing that a number of offices were crushed by falling masonry.
"As you know, the explosion of the silo at the Cultural Market did not go according to plan," a statement from the center read. "It hit the corner of the market and damaged a number of offices. The library has closed Saturday, Sunday and Monday."
Images taken by bystanders reveal how the cylindrical structure collapsed away from a designated fall area and towards six buildings housing offices and a library.