No doubt Douma 'chemical attack' staged, OPCW must investigate on ground in Syria – Russia UN envoy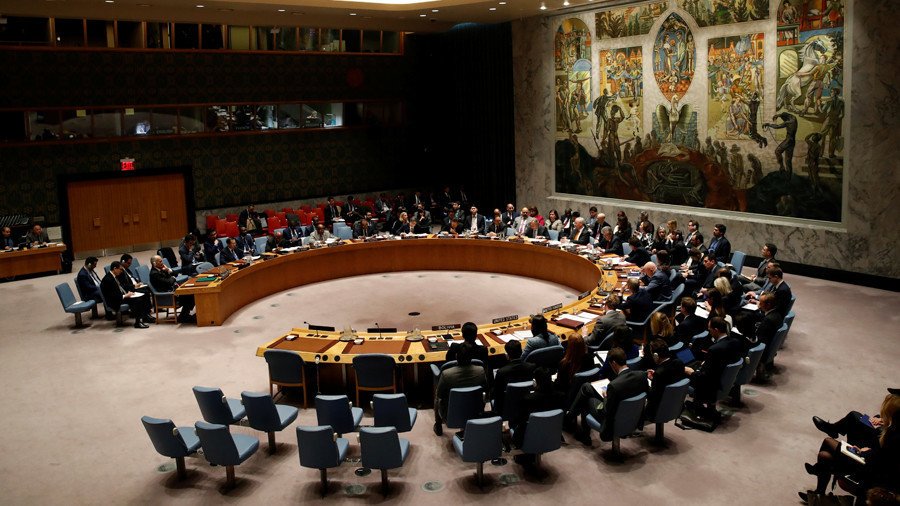 The UN Security Council held an emergency meeting on security in the Middle East, in the wake of reports of an alleged chemical attack in the Syrian city of Douma.
The UN special envoy for Syria, Staffan de Mistura, opened the meeting by describing the reports about the alleged chemical attack in Douma and the subsequent airstrike against the Syrian T-4 air base. He called for an "independent investigation" of the alleged chemical incident and urged restraint for all sides, in view of the airbase attack.
Russia is deeply concerned by the fact that some capitals, Washington as well as London and Paris, which are "blindly following" their US allies, have engaged "in a confrontational policy against Russia and Syria without any justification," The Russian Ambassador to the UN, Vassily Nebenzia, said during the meeting. He went on to say that Moscow recently faced "slander, hawkish rhetoric, sanctions, blackmail" and even "threats of force."
Western states are now threatening and slandering Russia with a ferocity that their governments "did not take the liberty" to unleash during the Cold War, Nebenzia added. "Russia has been inexcusably threatened," he said.
Nebenzia stressed that every time the Western powers interfere into other states' affairs, they "leave only chaos behind." "Do you understand the dangerous threshold to which you are bringing the world?" the Russian envoy asked.
There is "no doubt" that the alleged chemical attack in Syria's Douma was staged, Nebenzia said, commenting on the developments in Eastern Ghouta. He then called for an impartial probe into the reported incident, which should begin with the presumption of innocence.
The UN chemical watchdog must visit Syria and investigate the allegations, Nebenzia said, calling on the Organization for the Prohibition of the Chemical Weapons (OPCW) to visit Douma as early as Tuesday. Syrian and Russian troops would provide the inspectors with a safe passage to the area of the alleged chemical attack in Douma after they arrive to Damascus, he said.
Nebenzia questioned the 'evidence' provided by the controversial White Helmets group. In particular, he said the scene of an alleged chemical strike was a fake, saying that it seemed "unnatural" that the bomb "struck the roof of a building and then fell on a wooden bed without even damaging it."
You can share this story on social media: