White Helmets: World's most photogenic rescuers who 'don't care' about civilians?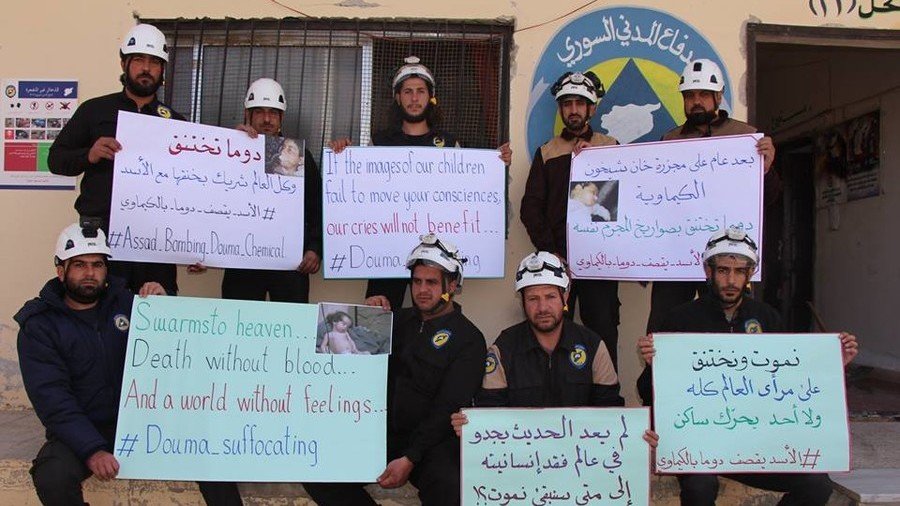 The notorious White Helmets group, claiming to be impartial first responders protecting Syrians – and filming themselves doing so – are again to the fore in Western media coverage, after they accused Damascus of a chemical attack.
The group, which emerged from 'volunteer' rescue teams operating in militant-controlled areas of Aleppo and Idlib in 2012, reached the peak of its worldwide fame during the Battle of Aleppo in 2016, becoming one of the most widely used sources of information and visual materials in Western media coverage of the Syrian conflict.
READ MORE: 'Syria gases own people just as Trump mulls withdrawal?' Journalists question Douma 'chem attack'
And, while a Netflix documentary about the White Helmets was praising courageous first responders and eventually won an Academy Award, people on the ground in Aleppo who spoke with RT's Murad Gazdiev in 2017 were describing a much darker side to the 'volunteers' routine.
The self-proclaimed rescuers were working closely with the militants and operating under their protection, Aleppans told RT, describing how supposedly impartial humanitarian workers were saving only "their own." White Helmets members were also accused of looting the very little aid that was coming into the city and of using the provisions to force starving locals to act on camera in return for a loaf of bread.
READ MORE: Ceasefire in Douma as thousands of Jaysh al-Islam militants agree to leave
Further evidence of the Western-funded group's close collaboration with militants was discovered by Gazdiev, as he toured several of their headquarters across the destroyed city. Watch Murad Gazdiev's full report to relive the liberation of Aleppo and get a broader picture of the White Helmets' daily routine.
Think your friends would be interested? Share this story!
You can share this story on social media: