'Free Princess Latifa': Kim Dotcom joins rescue bid for 'captive' UAE royal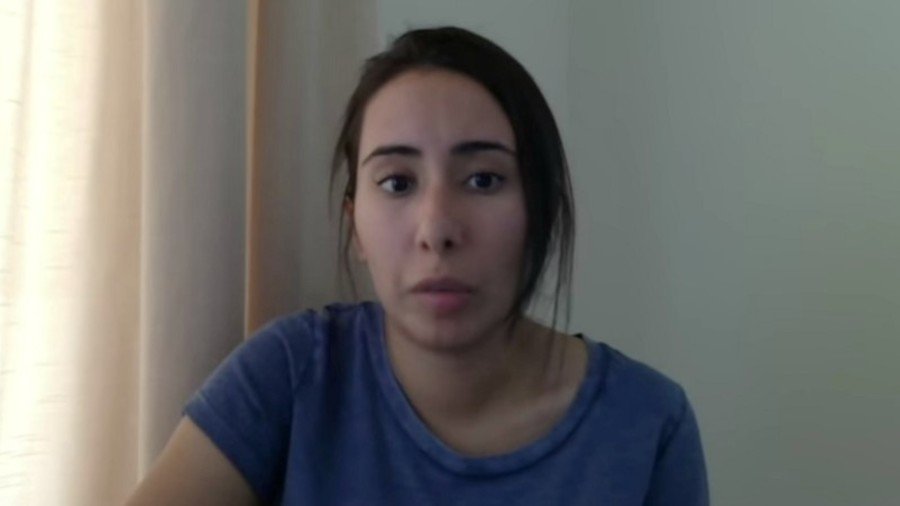 Kim Dotcom has vowed to raise awareness about UAE Prime Minister Sheikh Mohammed bin Rashid Al Maktoum's alleged kidnapping of his daughter, Latifa, who went missing after attempting to flee the Arab nation.
Latifa al Maktoum created a video before leaving Dubai in which she outlined her story, directing her lawyers to publish it should something happen to her. In the video, she provided details to help prove her identity, and said her older sister Shamsa had been imprisoned and tortured after she attempted to run away when the family were in England in 2001.
Sheikh Mohammed Al Maktoum, the ruler of Dubai, has kidnapped, imprisioned and tortured his own daughter Latifa. Nobody has heard from her in weeks. Before she fled Dubai she made a shocking video to be released in case of her capture. Let us help Latifa. https://t.co/LzodJMP7HN

— Kim Dotcom (@KimDotcom) April 3, 2018
Latifa is part of Dubai's ruling royal family. The United Arab Emirates consist of seven Emirates with six royal families. The young woman says that in 2002, when she was 16, she attempted to flee the UAE, but made it only as far as the Oman border. After she was taken home, she alleges she was beaten, imprisoned and tortured, from June 2002 until October 2005.
Latifa left again in February 2018 with the help of her fitness instructor and friend, Finnish national Tiina Jauhiainen, and a French-American former naval intelligence officer Hervé Jaubert. They left Dubai on Jaubert's yacht, the Nostromo.
Jauhiainen described her role in helping Latifa escape in a statement to the non-profit, Detained in Dubai, saying the group planned to reach India and then fly to the US to seek asylum. According to Radha Stirling from Detained in Dubai, Latifa made contact with the organization on February 26, saying she had escaped Dubai.
Jauhiainen said she was on the yacht with Latifa when it was stormed by a joint Indian-Emirati military raid. "Around 15 men came onboard fully masked, in armoured black clothing, with machine guns and laser sights. They used what was some kind of gas that filled the boat was smoke. It was the most terrifying experience of my life," she said.
"They dragged her away as I heard her say, 'I won't go back to the UAE, just kill me now'; I haven't seen my friend Latifa since," Jauhiainen added. The Finn said she was beaten, detained and forced to make a false confession before being released two weeks later.
The shocking witness report from the captain of US ship Nostromo which was attacked by the Indian Govt on behest of @HHShkMohd to kidnap his daughter Latifa. She was fleeing from Dubai after years of imprisonment and torture by her own father. #HelpLatifahttps://t.co/eDZdvgdanY

— Kim Dotcom (@KimDotcom) April 3, 2018
Jaubert told the organization at least five warships, two military planes and a helicopter were deployed in the raid. "We were taken to the UAE. Kidnapped and sent to jail in the UAE, I don't know where," he said in a statement recorded after his release. Jaubert himself fled Dubai in 2009 after being accused of embezzlement.
India's foreign ministry did not respond to requests from NDTV after Jaubert and Jauhiainen's statements were released. The Coast Guard's Avinandan Mitra earlier told the network that it had no information about the incident.
Latifa's last communication were Whatsapp messages sent to Sterling on March 4. "Radha, please help me, there are men outside," she reportedly said, adding she could hear gunshots.
Stirling told RT Latifa's current status is unknown. "She is still being classified as a missing person. We do not know if she is alive or dead." she said. "Our presumption is that she is in UAE custody, and very likely suffering a repeat of the abuses she allegedly suffered following her previous escape attempt."
Latifa's Instagram account has been taken down, and there are no archived versions available. Her last Instagram post detailed her sister's attempt to run away, along with details of her own attempted escape. "They captured me immediately and imprisoned and tortured me for 3 years and 4 months," Latifa wrote, detailing alleged abuses against her.
Stirling detailed alleged efforts by the UAE to quash the story, which included a negative article about Detained in Dubai published in the National. "They have continued to completely ban any coverage of Latifa's story." she said. "They have republished old articles about another daughter of Sheikh Mohammed who is also named Latifa, apparently in an effort to confuse the public into believing that the reports about Sheikha Latifa's escape and capture are just 'fake news.'"
RT has reached out to Sheikh Mohammed bin Rashid Al Maktoum for comment.
Like this story? Share it with a friend!
You can share this story on social media: