We don't want apologies, we want common sense to triumph – Putin on Skripal saga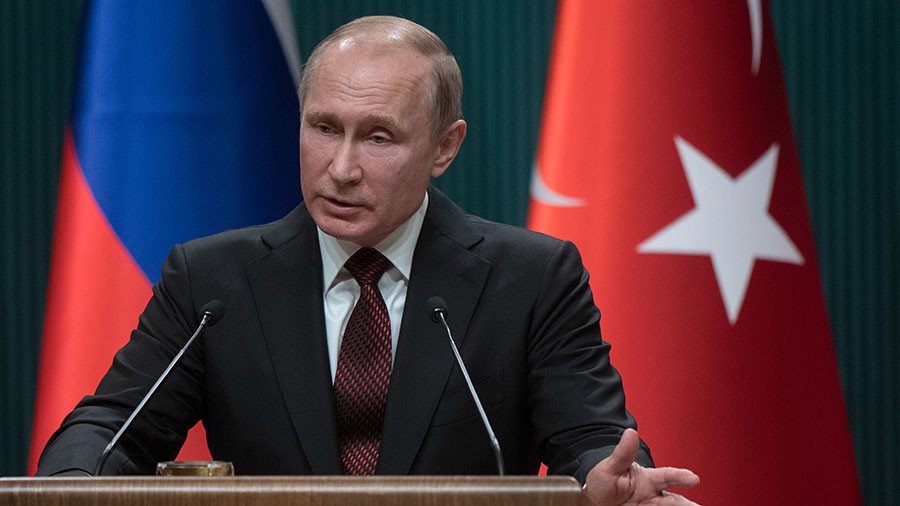 As the case for Moscow's involvement in the poisoning of Sergei Skripal is weakened by new revelations, Russian President Vladimir Putin says he simply wants the diplomatic fallout over the incident to end.
"We are not waiting for anything," the Russian president said at a joint press conference with his Turkish and Iranian counterparts in Ankara, in response to a journalist who asked if Moscow was waiting for apologies from the UK for its accusations.
READ MORE: UK Foreign Office denies claiming nerve agent from Russia, despite tweet and Boris Johnson interview
"All we are expecting is that common sense triumphs, and that international relations stop being harmed, as they have been in recent times. This doesn't just concern the attempted murder of Skripal, but other aspects of international relations."
Talk of apologies has come a day after the Porton Down lab that analyzed the samples from the March 4 incident said it had "not identified the precise source" of the "military-grade nerve agent" that left Skripal, 66, and his daughter Yulia in a coma.
While Porton Down insisted that it was "not its job" to trace the substance to its source, its words appeared to contradict earlier statements from the Foreign Office, and separately, its chief, Boris Johnson, who assured the media that he had received "categorical" assurance that the substance, which the UK lab labeled as being part of the Novichok nerve agent family, had come from Russia.
This incident has given weight to Moscow's insistence that the UK should have shown proof before launching a mass international campaign of diplomat expulsions, which saw over 100 Russian officials depart from over 20 embassies across the world.
READ MORE: Russia says it received only one substantive answer from OPCW over Skripal case
Putin has now said that he hopes that the international observer Organization for the Prohibition of Chemical Weapons, which is conducting its own tests on the samples, and will meet for an emergency session on Wednesday at Moscow's behest, "will put an end to this issue."
You can share this story on social media: