Aftermath of Saudi-led coalition airstrike which reportedly killed family of 12 in Yemen (GRAPHIC)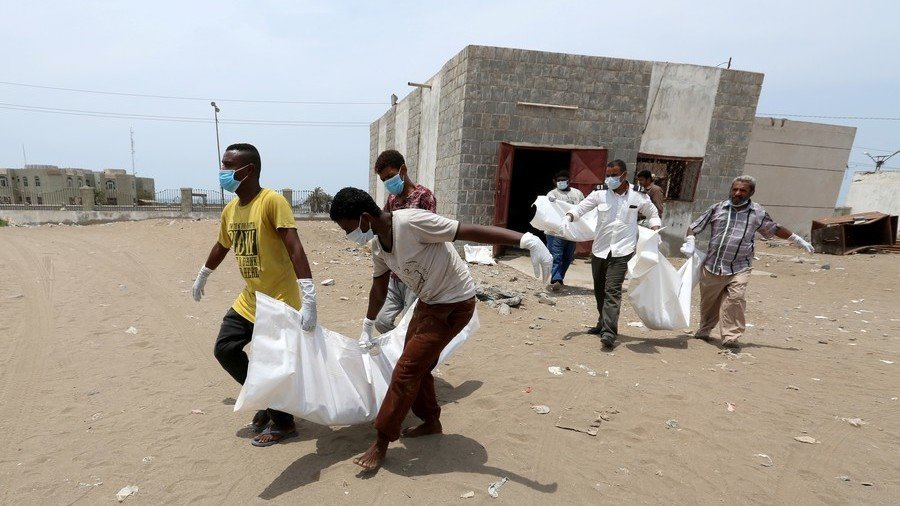 Graphic footage shows emergency workers carrying away charred remains in the aftermath of a Saudi-led coalition airstrike which killed at least 12 civilians, including seven children, in the Yemeni city of Hodeidah.
The strike was conducted on Monday, destroying a house in the al-Hali district of the coastal city. All the victims of the assault were reported to be members of the same family. The district is home to large numbers of civilians, displaced from other parts of the war-torn country.
RT has not published the full-length footage due to its extremely graphic nature. The shocking video shows Red Crescent paramedics working at the site of the airstrike, searching through piles of sand and concrete rubble. The rescuers are seen collecting charred corpses and body fragments of the victims. At least one of them appears to be a new-born baby, while other child victims seem to be no older than 10 years old.
READ MORE: Saudi airstrike kills 12 members of same family in Yemen - reports
Saudi Arabia and its allies launched the campaign against Yemen back in 2015, in an attempt to reinstate the ousted President Abdrabbuh Mansur Hadi. The coalition imposed a strict air and naval blockade on the country, already ravaged by domestic bloodshed, in order to prevent the alleged smuggling of weaponry. While the campaign's goal has not been achieved, the conflict killed over 10,000 people, displaced more than 2 million, brought millions of civilians to the brink of famine and ultimately led to one of the worst cholera outbreaks in modern history, according to the UN.
You can share this story on social media: