Austrian migrant play dubbed 'propaganda,' canceled after outrage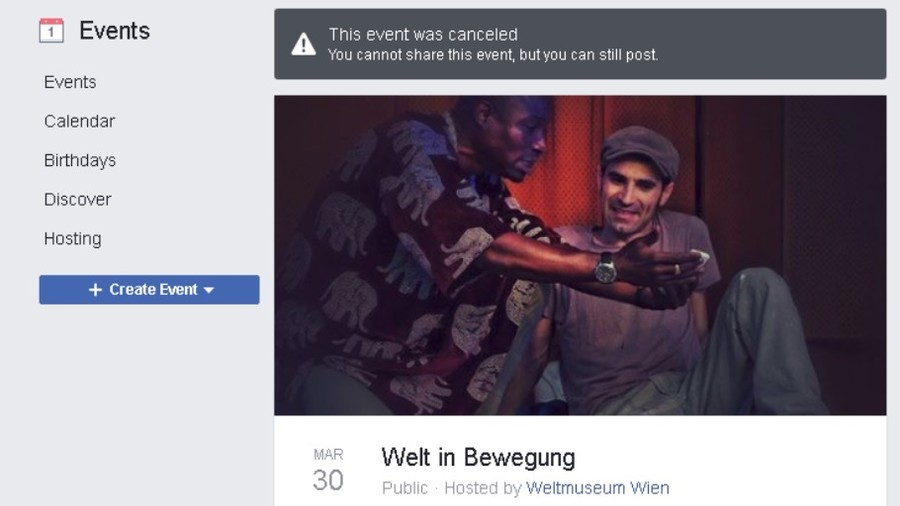 An Austrian play about two asylum seekers – a money-motivated man "from Africa" who blundered into an ISIS trap, and an educated Syrian, who flees war – was canceled in Vienna after it was dubbed "the stupidest propaganda."
The controversial play 'Welt in Bewegung' ('World in Flux') was due to premiere publicly at the Ethnology Museum (Weltmuseum) in the Austrian capital on Friday. However, the venue decided to scrap the production at the last moment. It had already been staged for some 10,000 children aged between 11 and 17 in Vienna's schools.
The play tells a story of two asylum seekers in Austria: well-educated Nadim from Syria and money-motivated Mojo, who arrived from somewhere in Africa. For unknown reasons, the writers preferred not to name Mojo's country of origin.
The motivations of main characters are shown in sharp contrast. Nadim flees his home country because of the raging war. He works hard to integrate into the Austrian society and studies German. At the end of the play, he receives his award – he is granted asylum.
By contrast, Mojo, who also happens to be a voodoo practitioner, is driven purely by money. He flees his country after watching several YouTube videos that claim refugees in Europe get cars, houses and a hefty sum of €6,000 ($7,400). However, his asylum application is rejected and he fails to get easy money. Finally, he falls under the influence of Islamic State (IS, also known as ISIS) and is deported by the Austrian authorities.
There is ultimately a happy ending for Mojo as well, however, as he starts a family and a business in his home country, and escapes the clutches of the terrorists.
Other characters in the play include a couple of sneaky journalists, two racist Austrian women, and a friendly yoga instructor who gives classes to refugees.
The play was commissioned by then-Interior Minister Wolfgang Sobotka from the center-right People's Party, as well as the International Center for Migration Policy Development, and the Pedagogical Secondary College in Lower Austria. Its author, Edmund Enge, told Oe1 Radio station that some 350 teachers gave "almost exclusively positive critique and reactions from all sides."
However, the majority of critics didn't share this enthusiasm for the 'Welt in Bewegung.' One unnamed teacher who watched the play said that it had 'put years of integration in danger.'
"What the play is about is what the ministry ordered. It's actually not a play, it's indoctrination supposed to result in thinking the right way," Gerhard Ruiss, the head of the IG-Autoren writers' collective, added.
According to director and political activist Tina Leisch, the Interior Ministry commissioned a "racist, poorly written" play, which turned out to be "the stupidest propaganda." "It is a rape of what theater or art should be, and that is a call to thought, and not to say, 'We are the ministry, and we are beating children over the head with our political positions,'" she said.
Interior Ministry spokesman Alexander Marakovits insisted that the play "has nothing to do with propaganda." "This is just about conveying information," Marakovits told Oe1.
The museum explained that the decision to cancel the play was taken when, "after closer examination," the performance failed to "fit the program concept.""We are a meeting point for people and cultures, where appreciation and excitement for cultural diversity is transmitted. We fight racism and fear of the foreigner in our museum work," the statement from the museum said.
Like many EU states, Austria has been overwhelmed with a huge influx of asylum seekers since the refugee crisis began in 2015. In a desperate attempt to handle the crisis, Vienna doubled cash offers for migrants to leave country back in 2017. It was none other than Sobotka who said that the plan was primarily to target "those who are not likely to be granted the right to long-term residence."