'Blasphemous act': Editor faces 15yrs in jail after posting masked image of Thai kings online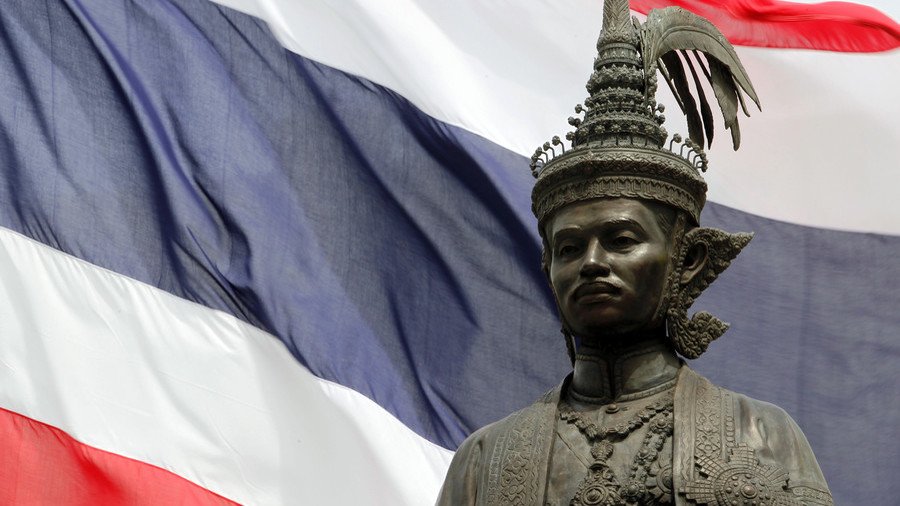 The editor of a magazine in Thailand could face criminal charges after sharing an image of three statues of ancient kings wearing gas masks ahead of an air-pollution protest in the northern city of Chiang Mai.
READ MORE: Thailand cracks down on cryptocurrencies with blanket ban of their use in banking
Pim Kemasingki, a Thai-British national and editor of Citylife magazine, could face up to 15 years in jail if charged and convicted of sharing the offending image on a Facebook page for 'Right to Breathe,' an anti-air-pollution rally planned for Friday. The event, which called for local authorities to provide official air-quality information and adhere to World Health Organization standards, has now been canceled.
Now, Chiang Mai Governor Pawin Chamniprasart has filed an official complaint with police on the grounds that the image was "blasphemous" and may have violated Thailand's Computer Crime Act. "The statues of three kings are very sacred and respected by Chiang Mai residents, they were our ancestors," Chamniprasart told AFP on Saturday.
The monarchy are worshipped as demigods in Thailand and their status is protected by broad blasphemy laws. The crime, known as 'lese majeste,' carries a maximum sentence of 15 years in prison. However, offences under the Computer Crime Act are punishable by sentences of up to five years.
"I shared this picture thinking it was pertinent and powerful," Kemasingki told Reuters. "For decades I've been promoting the city and loving it... so it's quite unsettling that fighting for healthy air for my fellow citizens has turned into me besmirching the city."
Chiang Mai is the largest city in northern Thailand. Air pollution there peaks every year towards the end of the dry season, between February and April, when forested areas are burned to clear land for new crops.
READ MORE: Thai PM evades press with cardboard cut-out of himself (VIDEO)
Environmental groups have appealed to Thai officials to tackle the pollution problem in its biggest cities during recent times. In February, Greenpeace called on Prime Minister Prayuth Chan-ocha to reduce emissions in the capital Bangkok after the organization said the city had experienced its worst-ever period for air pollution in the first months of this year.
The Pollution Control Department warned that the level of particulate matter smaller than 2.5 micrometers, or PM2.5 dust, in the city had hit unhealthy levels. PM2.5 dust is considered the most dangerous kind, as it includes pollutants such as nitrates that can penetrate the cardiovascular system.
Think your friends would be interested? Share this story!
You can share this story on social media: