Sandstorm apocalypse: Orange 'blizzard' engulfs Chinese city (VIDEO)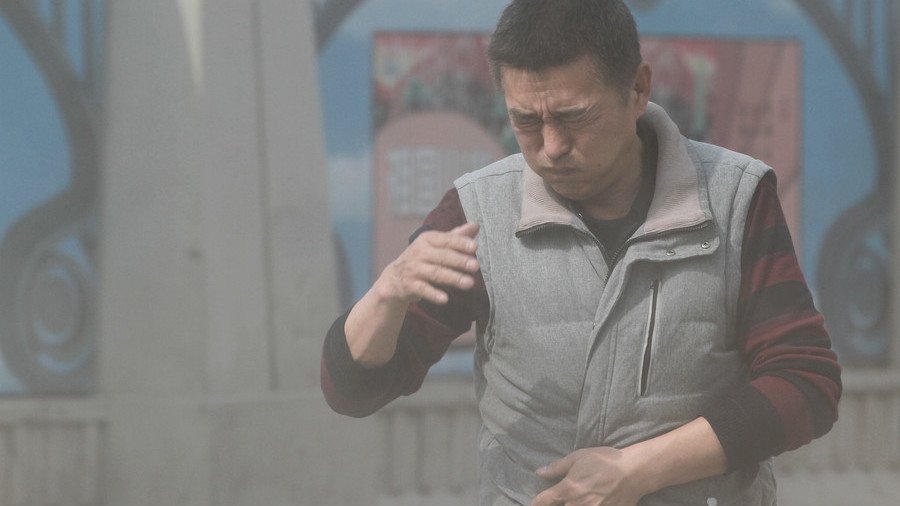 An enormous sandstorm has blasted a huge swathe of north eastern China, entirely engulfing a city in Inner Mongolia and turning the sky orange.
The city of Xilingol bore the brunt of the monster storm as it swept in off the Gobi desert. Chinese news outlet CGTN aired video footage of the storm as it lashed the Mongolian city's streets. The images show a rolling wall of sand quickly consuming the town, turning the sky a deep orange and causing significant visibility problems.
The storm prompted China's Meteorological Center (NMC) to issue a 'blue' sandstorm warning. Blue warnings alert residents to close windows and doors, to wear scarves and dust masks and to drive slowly due to poor visibility. The storm later rolled east and eventually blasted an area of 1.5 million sq km, including the capital Beijing, with sand and dust.
READ MORE: 70% of Chinese firms violating pollution regulations
China is routinely hit by giant storms that originate in Mongolia's Gobi desert. In a project known as the "Great green wall," the government has taken the novel approach of planting millions of trees along its border in an effort to block the tempests before they reach major cities and to halt desertification.
Like this story? Share it with a friend!
You can share this story on social media: