Uber backlash: Brussels taxi drivers bring EU capital to its knees (VIDEOS, PHOTOS)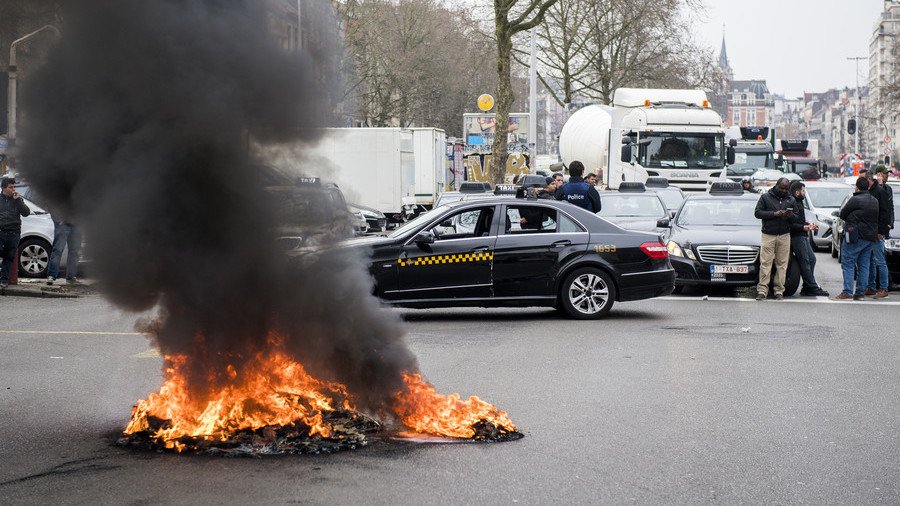 Taxi drivers across Brussels are holding a "tough and extremely disruptive" strike Tuesday, effectively bringing large parts of the EU capital to a standstill, in protest over the so-called 'Uberization' of the city.
The private sector is encroaching on what the city's taxi drivers argue is a public utility. The CSC Trade Union, representing approximately 1,000 drivers, said Brussels Mobility Minister Pascal Smet was "not listening" to workers' demands, adding that it "will take tough action,"The Bulletin reports.
The protests began at 5am local time and consist of go-slow convoys and roadblocks at busy intersections, in addition to planned disruptions on the Brussels Ring slip roads. Taxi drivers have also established positions at the South Station to prevent any Uber drivers from capitalizing on the situation. A demonstration at the city's North Station is also scheduled to begin at 1pm local time.
"No, to the theft of our jobs, licenses and societies! No to the Uberization of society! No to social dumping!" reads one of the leaflets distributed by the taxi drivers.
The union maintains that the Brussels city council's plan will marginalize the city's taxi fleet by putting ride-sharing platforms on an equal footing with traditional taxis while also increasing the maximum number of taxi drivers allowed to operate within the Brussels metropolitan area. Drivers from other European cities are also protesting Uber's practices in solidarity with the Brussels drivers.
"The right to demonstrate is not absolute. Limits should be set to maintain public order and ensure respect for other people's freedoms," Vincent De Wolf, head of the The Reformist Movement group in the Brussels parliament said.
READ MORE: Police release video of fatal Uber driverless cab collision (GRAPHIC)
Separately, the US National Transportation Safety Board has launched an investigation into the death of a pedestrian in Arizona after she was struck by one of Uber's driverless vehicles during a test.
Think your friends would be interested? Share this story!
You can share this story on social media: