'We were very scared': Passengers of Air France flight discover huge hole in plane cabin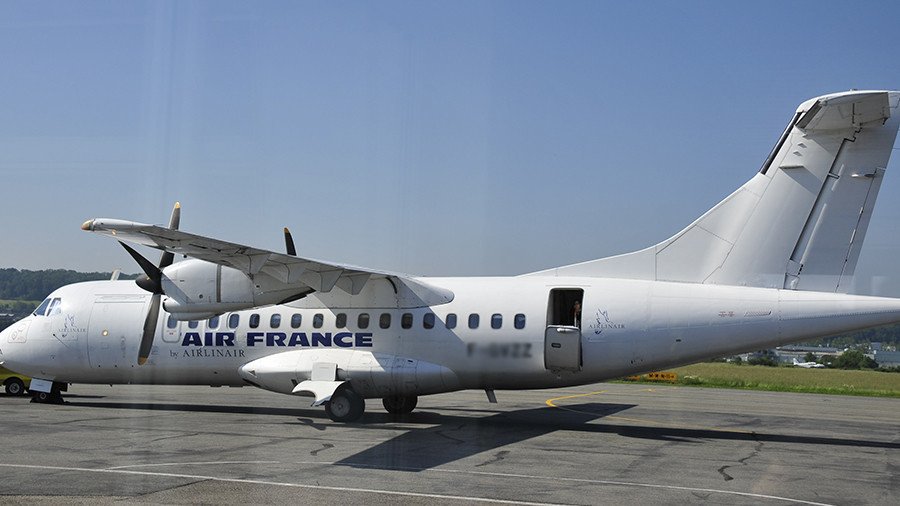 A French airline has launched a major investigation after a massive hole opened up in the cabin of one of its planes during a domestic flight. The drama began halfway through Sunday's 90-minute HOP! service with a 'loud noise.'
However, the 48 passengers aboard the flight from Paris to Aurillac in the south of France only discovered the full scale of the problem once the aircraft landed at around 9.30pm local time, when the hole was actually spotted, France 3 reports.
Photographs of the short-haul regional airliner ATR 42, posted across social media, show the full extent of the damage.
"We were very scared," said passenger Lydie Ribes, a France 3 journalist. "I was on the plane with my kids. I had fallen asleep when a loud noise woke me up."
"The hostess explained that there was nothing to worry about," Ribes recalled. "The pilot then indicated that a bird may have been struck, as there are many migratory birds at this time of the year. He also mentioned the possibility of hitting a block of ice. Passengers were reassured by the explanations of the crew."
Having discovered the size of the hole while getting off the plane, passengers became of the seriousness of the situation. "It's impressive," Ribes said. "When you realize that we have traveled half the flight with a hole like that on the plane, it makes your blood run cold."
READ MORE: 75% of French oppose arms sales to Saudi Arabia as Yemen war enters 4th year – survey
HOP! flights are operated by Air France subsidiaries. A spokesperson for the regional airline confirmed to RT.com that an investigation is underway and that this was the first incident of its kind for HOP!
Local media cited a company spokesperson as saying "it's too early" to identify the cause of the damage, but that part of the aircraft may have come off as landing gear was being deployed. On Monday the Aurillac-Paris return flight was canceled.
If you like this story, share it with a friend!
You can share this story on social media: