IDF soldier who 'executed' wounded Palestinian attacker has sentence reduced for 2nd time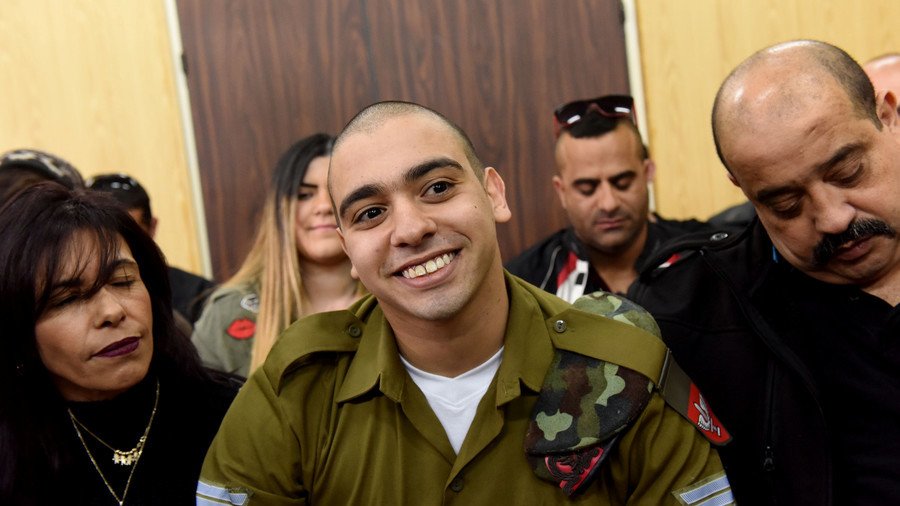 Elor Azaria, the IDF soldier who killed Palestinian Abdul Fatah al-Sharif, has had his sentence reduced for the second time. Footage of the soldier shooting the already wounded attacker in the head prompted international outrage.
Azaria was convicted of manslaughter in January 2017 for shooting Sharif in the head at close range in March 2016. Graphic footage of the shooting shows Sharif lying wounded on the ground after he stabbed an IDF soldier and was shot by Israeli soldiers.
Azaria is seen cocking his M-16 before he approaches Sharif, who is lying on the ground, and shoots him in the head, despite Sharif being incapacitated and no longer posing a threat. The UN described the killing as an "extrajudicial execution."
The video sparked international outrage and forced the Israeli military to take a harder line on the soldier. In February 2017, Azaria was sentenced to 18 months in prison, which the UN human rights office said was "unacceptable" and "excessively lenient." He began serving time in August after his legal team attempted to appeal and delay the date he was due to serve his time. In September, IDF chief of staff Gadi Eizenkot announced Azaria's sentence would be reduced by four months "on grounds of compassion and mercy."
READ MORE: Israeli soldier sentenced to 18 months for fatally shooting wounded Palestinian attacker
The IDF parole board ordered Azaria's early release on Monday. He will now be freed on May 10, after serving nine months of a 14-month sentence that was originally meant to be 18 months. It is common practice for prisoners to be released early for good behaviour.
Last week, the military prosecution opposed parole for Azaria, Haaretz reports. Chief prosecutor Sharon Zagagi Pinhas told the parole board that Azaria has shown no remorse for the premeditated killing.
Azaria was the first member of the IDF to be sentenced for manslaughter in over a decade. In another internationally high-profile case, Taysir Heib was sentenced to eight years for the 2003 killing of British activist Tom Hurndall in Rafah. He was released after serving five years.
Even Azaria's original sentence was seen as lenient, particularly when compared to the sentences given to Palestinian children for throwing stones and Israelis who refuse to join the military. In 2015, Israel introduced a mandatory four-year sentence for those who throw stones. Manslaughter convictions carry a maximum sentence of 20 years, and the prosecution recommended Azaria receive three to five years.
Israeli Prime Minister Benjamin Netanyahu was among those who called for Azaria's pardon, calling the day of his sentencing "a difficult and painful" one.
Think your friends would be interested? Share this story!
You can share this story on social media: