IDF soldier who killed wounded Palestinian attacker appeals sentence amid lawyers' desertion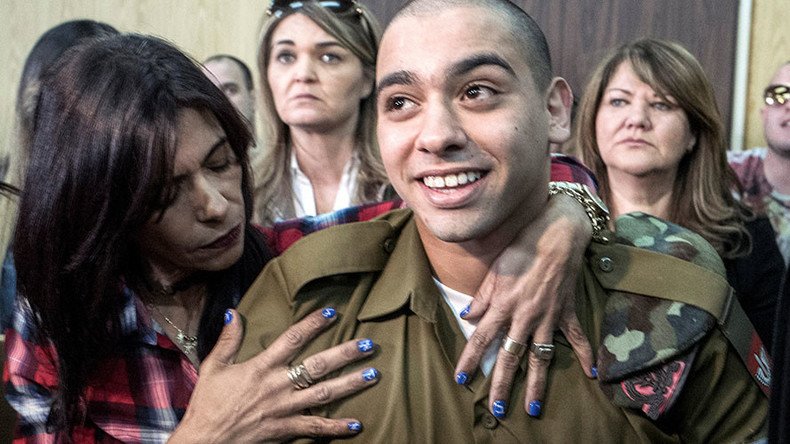 The legal team representing IDF Sergeant Elor Azaria, convicted of manslaughter for shooting dead an already neutralized Palestinian attacker, filed an appeal with Israel's military court, despite reportedly being coerced by the prosecution against the move.
Azaria was sentenced by a military court on February 21 to 18 months imprisonment, 12 months' probation, plus a rank demotion. The soldier has been ordered to begin serving his sentence on March 5, but his defense team on Wednesday appealed his manslaughter conviction and also filed a motion to delay the date he is due to arrive to serve his time.
After the four men defense team compiled an appeal, three of the attorneys representing Azaria resigned. Attorneys Ilan Katz, Eyal Besserglick, and Carmit Shchiver left the team leaving only Yoram Sheftel to represent Azaria in court.
"While we believe that the verdict is incorrect and detached from the evidence, we exhausted our maximum during the trial and believe it will be more beneficial for the soldier to turn to other channels," the lawyers explained their decision.
After Sheftel filed the appeal with the military court, he and the father of the sergeant, Charlie Azaria, attacked the Military Advocate General, Brig. Gen. Sharon Afek and the prosecution team who had allegedly "blackmailed" the majority of the defense team to quit.
"What led to the dramatic change in the position of the other litigators was a meeting with the head military prosecutor on Sunday, in which we were told 'if you don't file an appeal, neither will the IDF," attorney Sheftel revealed, Ynet news quoted.
"This is an outrageous assertion with a moral aspect—threats and extortion," the only remaining lawyer said of the tit-for-tat proposal.
"They told me if we appeal, the IDF will appeal. They are trying to scare the family, but my fight will continue because this is the struggle of every parent. I won't give up," Azaria Sr. told reporters.
In March 2016, 19-year-old Azaria fatally shot Abdel Fattah al-Sharif, a Palestinian assailant who had already been incapacitated, in the West Bank city of Hebron.
At the time of the fatal head shooting, which was captured on camera, the Palestinian assailant had already been immobilized and posed no danger to the public or the Israeli soldier, the court found contrary to defense claims which said that Sharif posed an immediate danger.
In January a three-judge panel unanimously ruled that Sgt. Azaria had violated the military's open fire regulations when he shot Sharif dead. In late February he was sentenced to 18 months on manslaughter charges.
READ MORE: Netanyahu calls for pardon of Israeli soldier convicted of manslaughter
Azaria's case has split Israeli society, with Prime Minister Benjamin Netanyahu joining the chorus of right-wing Israelis calling on Israel's president to pardon the soldier convicted of manslaughter.
Others in Israel argued that the man should have been prosecuted for murder and face time of up to 20 years in prison. Following the sentencing, the UN human rights office decried the 18-month jail term calling the punishment "unacceptable" and "excessively lenient."
You can share this story on social media: