Netanyahu calls for pardon of Israeli soldier convicted of manslaughter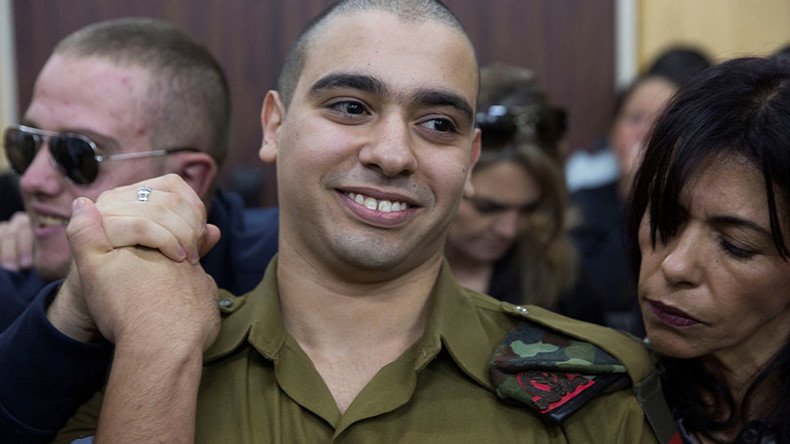 Prime Minister Benjamin Netanyahu has joined the chorus of right wing Israelis calling on the Israeli president to pardon a soldier convicted of manslaughter after shooting dead an already neutralized Palestinian attacker last March.
On Wednesday, a three-judge panel unanimously ruled that Sgt. Elor Azaria had violated the military's open fire regulations when he shot dead Abdel Fattah Sharif, who had attacked IDF soldiers in the West Bank city of Hebron.
At the time of the fatal shooting in the head, which was captured on camera, the Palestinian assailant had already been immobilized and posed no danger to the public or the Israeli soldier, contrary to defense claims which said that Sharif posed an immediate danger.
"His motive for shooting was that he felt the terrorist deserved to die," chief judge, Col. Maya Heller, said delivering the. Azaria now faces 20-year behind bars for manslaughter. While the defense team said they would appeal the verdict, Netanyahu urged Israeli president Reuven Rivlin to pardon the soldier.
"IDF soldiers are our sons and daughters and must remain above any controversy," Netanyahu wrote in Hebrew on Facebook. "I support giving Sgt. Azaria a pardon."
"This is a difficult and painful day for all of us, first and foremost for Elor and his family, for IDF soldiers, for many citizens, and for parents of our soldiers — myself included," Netanyahu added.
Besides Netanyahu, Education Minister Naftali Bennett also condemned the judiciary's decision, as hundreds of activists demonstrated in support of Azaria.
"Today a soldier who killed a death-deserving terrorist who tried to butcher a soldier was put in handcuffs and treated like the worst of criminals," he wrote on Facebook.
The Israeli defense minister also disagreed with the verdict, saying that "We must keep the army outside every political argument...and keep it in the widest consensus in Israeli society." However, as the verdict was announced, Avigdor Lieberman said the ruling should be respected.
Sharon Gal, a spokesperson for the Azaria family, accused the court of "picking up the knife [used to attack an IDF soldier] from the ground and stabbed it in the back of all the soldiers".
The office of president Rivlin has already issued a statement saying that any amnesty plea on behalf of Sgt. Azaria would be considered in accordance with standard practices.
Palestinians and Israeli Arabs have carried out over 160 knife attacks against Israeli soldiers and civilians after a new wave of violence began in September 2015. Since then, 42 Israelis have been killed in such attacks and 602 people, including 4 Palestinians, injured, Israel's Foreign Ministry said on Monday.
Human Rights Watch (HRW) figures show that Israeli forces shot and killed more than 150 Palestinians, while Palestinians have killed 33 Israelis during the same time period.
The Palestinian news agency Ma'an has a slightly different casualty toll and has recorded the death of 235 Palestinians and 34 Israelis from 1 October 2015 – 30 September 2016. In addition two Americans, one Eritrean, one Sudanese, and one Jordanian were killed.
And while Israelis see the attacks as a "direct result of incitement by radical Islamist and terrorist elements, calling on Palestinian youth to murder Jews," HRW believes the Palestinian - Israeli conflict is similarly fueled by Israel's 'shoot-to-kill' policy encouraged by senior officials.
A new HRW report suggests that senior officials encourage the Israeli Defense and Police Forces to "shoot to kill" Palestinians they suspect of attacking Israelis, "even when they are no longer a threat."
"Given the prevalence and prominence of statements encouraging security forces to shoot to kill, what we're asking for is that Netanyahu and other senior officials issue a strong and public admonition to intentionally use lethal force only when strictly necessary," HRW representative Ahmed Benchemsi told RT.
You can share this story on social media: