Assad visits troops and civilians in eastern Ghouta (PHOTOS, VIDEO)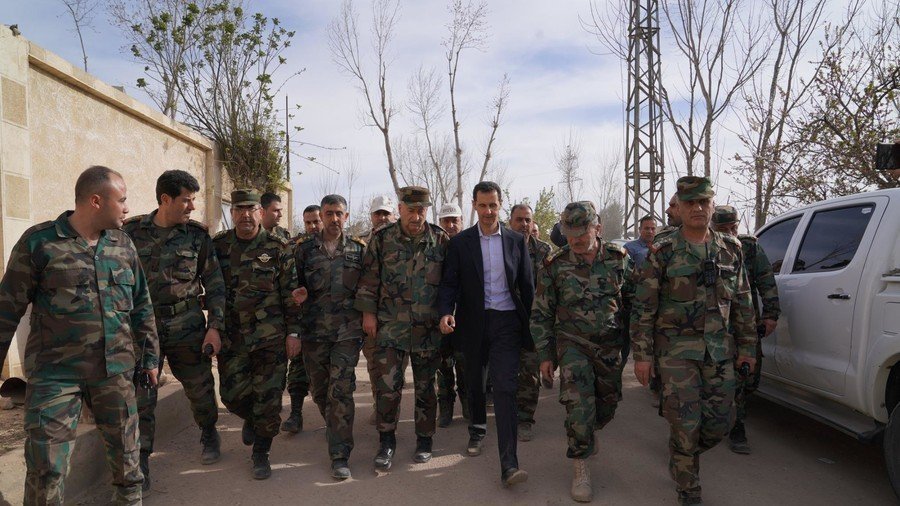 Syrian President Bashar Assad has visited eastern Ghouta on Sunday for the first time in years, where a military operation to retake the area from militants is ongoing and a steady stream of civilians are fleeing to safety.
Footage and photos released by the presidency and state media SANA show Assad meeting with frontline soldiers and some of those displaced from the former militant-held enclave. The casually dressed president praised them for the efforts to retake the Damascus suburb, which has been under militant control since 2012.
In his first visit to the area in years, the president was recorded talking and shaking hands with soldiers, as well as some civilians that were displaced by the fighting.
Tens of thousands of civilians have passed through humanitarian corridors established by the Russian and Syrian militaries, escaping eastern Ghouta where they had been used as human shields by terrorists from Jaysh al-Islam and other militant groups. On Sunday alone, more than 25,000 people reportedly left militant occupied areas of the city, bringing the total to over 70,000, according to data from the Russian Defense Ministry.
The UN and other humanitarian groups have been working with the Syrian government and Russian Center for Reconciliation to provide aid and assistance to the civilians leaving and those still trapped in the area of eastern Ghouta.
"We have thousands of people leaving their places, running away from battles. That is putting a lot of pressure on humanitarian workers, on the government services, on the people themselves," UN Humanitarian Coordinator for Syria Ali Al-Za'tari told Russian media.
READ MORE: '5 years of suffering over': Thousands safe after fleeing militant-occupied E. Ghouta (VIDEO)
You can share this story on social media: