'5 years of suffering over': Thousands safe after fleeing militant-occupied E. Ghouta (VIDEO)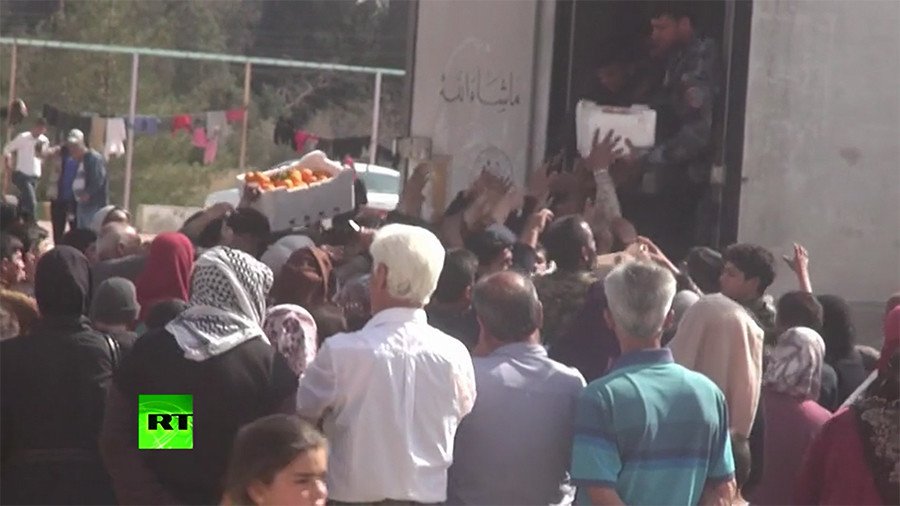 More than 25,000 people left the militant-occupied areas of the Damascus suburb of Eastern Ghouta on Sunday, with the Syrian and Russian militaries providing families with aid after what they describe as years of suffering.
Those fleeing the area are receiving hot meals at field kitchens, set up by the Russian military at the checkpoints along the humanitarian corridor. They are also distributing mattresses and bedding to the civilians.
The fighting in Eastern Ghouta has seen tens of thousands of civilians flee through humanitarian corridors in search of safety. People told RT's Ruptly video agency that the militants controlling the area made their living conditions unbearable.
"We spent the last month underground, like mice. We spent an entire month in a room, we did not dare to go out of the basement for even a second," one woman said.
"We suffered a hard life for five years, the [militants] were treating us horribly, they were unjust to people, they formed a court. They would execute whoever caused a problem the next day according to their wish, and the people involved in nepotism were not held accountable. As for food and aid, we were starving," one man recalled.
"Life was unbearable in Ghouta – no electricity, no water, no aid…Three-quarters of people were not getting any food and water. [People's] health was bad, people were unable to walk due to the lack of food," another resident added.
On Saturday, the fleeing civilians told Ruptly that the armed groups holding out in Eastern Ghouta, a militant-controlled suburb near the Syrian capital of Damascus, fired at people even as they were fleeing their homes, and also used them as human shields.
Daily humanitarian pauses for Eastern Ghouta began on February 27, as part of the Syrian Army's and Russia's efforts to help civilians leave the combat zone. The Russian military has repeatedly said that the militants use civilians as human shields, targeting those trying to flee the terrorist enclave.
The UN and other humanitarian groups have been actively cooperating with the Syrian government and Russian Center for Reconciliation to provide aid and assistance to the civilians leaving and those still trapped in the Eastern Ghouta area, UN Humanitarian Coordinator for Syria Ali Al-Za'tari told Russian media in an exclusive interview.
"We have thousands of people leaving their places, running away from battles. That is putting a lot of pressure on humanitarian workers, on the government services, on the people themselves," Al-Za'tari said. "We've seen that the Syrian Red Crescent was working very hard to ensure that services immediately are provided."
Over 70,000 people have left Eastern Ghouta through the humanitarian corridor, according to figures from Russian Defense Ministry.
You can share this story on social media: