Moscow calling from the Dark Side: 'Russian bots' asked Last Jedi team to save villain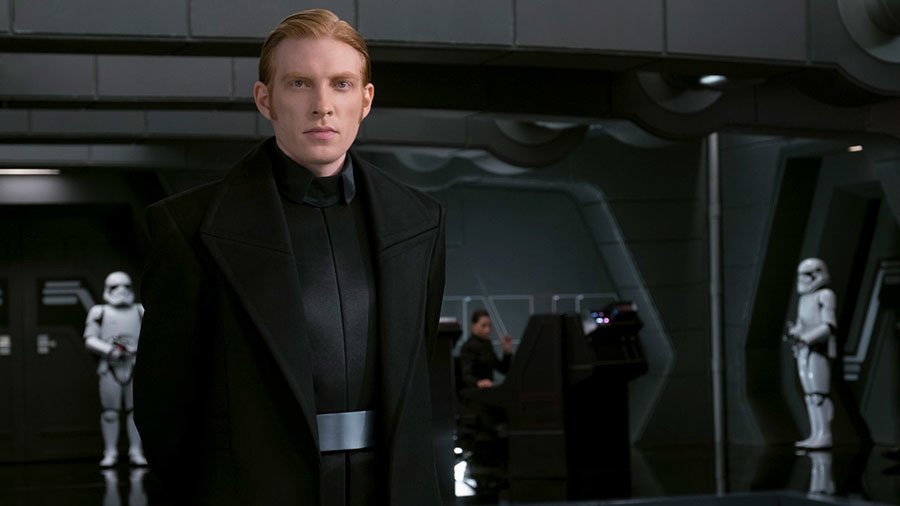 It seems nothing is sacred for the Russian bots, not even 'Star Wars.' The bots launched a coordinated attack on the creators of 'The Last Jedi' with the most sinister of goals – to ensure the survival of the movie's villain.
The revelation comes in a 90-minute documentary about the creation of the latest 'Star Wars' installment. 'The Director and the Jedi,' which was shown on Monday at the South By Southwest (SXSW) festival and will feature in the upcoming digital release of the movie.
According to director Rian Johnson, the filmmakers were attacked by Russian bots, who joined in a coordinated effort to make sure that General Armitage Hux of the villainous First Order survived in 'The Last Jedi.' Spoiler alert: he did, eventually bowing to his rival, Kylo Ren, as the new Supreme Leader.
In 2016, there was no indication that Hux may face death in the then-upcoming movie, but apparently his power struggle with Ren worried some people in Russia enough to bombard Johnson with pleas on Twitter. They coordinated the effort through hashtags like #HuxLive.
"It's amazing," Johnson explains. "There's a coordinated effort by these Russian accounts. Hundreds of them."
just russians, rian. just regular fans. #huxlive lollll how has it come to this

— jho (@drhorowitzfine) March 14, 2018
retweet if you're a "russian bot" trying to save General Hux

— Porgoth Bauglir (@tokyotheglaive) March 13, 2018
Johnson was apparently right about a coordinated effort, but not so much about it being conducted by bots. "It was a flash mob. We were so worried about Hux and that's why we wrote. This is 'Star Wars.' In that franchise, officers of the 'dark' side don't live for more than two movies. Hux is now an exception," one of the Twitter users behind the online campaign told RT.
"I have no idea how many people were involved, but it seems like many. And there was no special way for us to coordinate. We were united by the thought that we wanted to keep the Domhnall Gleeson character for the entire trilogy," @Nesterova_Drina said.
Think your friends would be interested? Share this story!
You can share this story on social media: