Fake-news-week: Magazine retracts story about 'alt-right bots' and Sen. Franken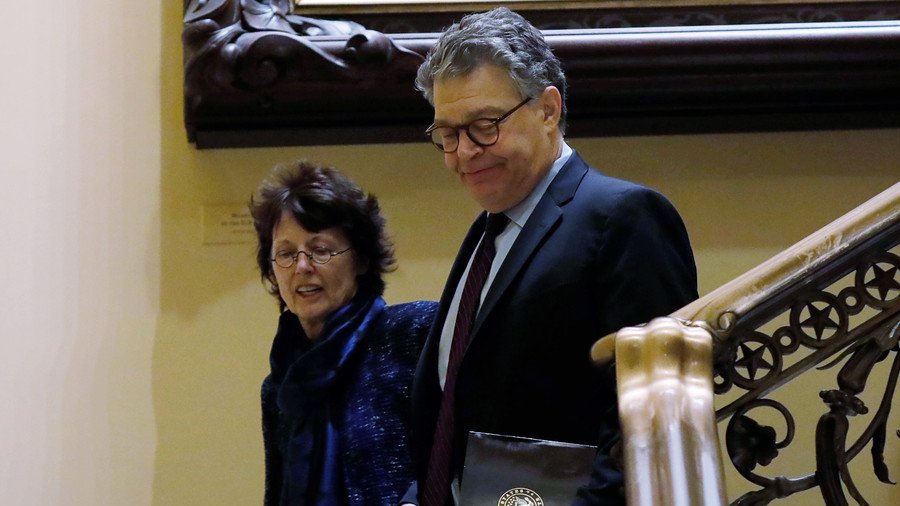 A once-respected news magazine has been forced to retract a story claiming that 'alt-right bots' and 'Russian spies' were behind a campaign last year to unseat Senator Al Franken (D-Minnesota).
It was a natural 'bombshell' story: "Alt-right" botnets and even Russians themselves had targeted the Minnesota Democrat after a radio broadcaster – described as a "Hooters pinup girl and lad-mag model" – accused him of groping her on a comedy tour years ago. "Franken was framed!" exclaimed the #Resistance Twitter, calling for the senator's reinstatement, following a story published on Monday by Newsweek.
According to the piece, accusations by broadcaster Leanne Tweeden were unreasonably amplified by a pair of fake news websites based in Japan and created before she came forward, while a "swarm of related Twitter bots" made the accusations go viral in tandem with "prominent real, live members of the far right" such as Mike Cernovich. This supposedly drowned out testimonies by female Democrat staffers defending Franken.
The story even claimed that a "Russian intelligence operation" had joined in, citing the Alliance for Securing Democracy (ASD), another shady outfit that sees Russian bots and Putin puppets everywhere. Newsweek's story was quickly seized-upon by Clinton supporters such as Richard Painter, head of the activist group CREW, and progressive news blog RawStory.
There was a tiny problem with the story, though. It was not true. The fact-checking outfit Snopes was the first to raise some red flags. The bit about Russians was removed after ASD disputed the interpretation of their "research." Newsweek eventually retracted the story in its entirety on Wednesday, with an apology by national politics reporter Nina Burleigh.
'What happened?' as Hillary Clinton herself might wonder. Apparently, Burleigh was all too eager to lap up the slop served up by a shady outfit called "Unhack the Vote," which first made the claim about overseas 'alt-right' bots and cheered when it was picked up by Newsweek and RawStory.
According to the retraction, Newsweek was "unable to independently verify" Unhack the Vote's claims. That's all fine and good, but isn't fact-checking something that ought to be done before publication, not days later?
Also, though both Newsweek and RawStory had referred to journalist Ijema Oluo's article about Franken in their stories, neither outlet had apparently taken the trouble of actually contacting her.
Newsweek was once a respectable magazine. Founded in 1933, it was acquired by the Washington Post in 1961, and extensively covered the Watergate scandal in the 1970s. By 2008, however, it had fallen on hard times, and was sold in 2010 for the grand sum of $1. After a brief merger with the Daily Beast, it was relaunched as a print magazine in 2014, under new management.
The magazine also had formerly employed Kurt Eichenwald, whose articles, claiming that Trump conspired with Russia in libelling a former Sputnik editor, had to be retracted under the terms of a court settlement. Eichenwald became infamous after his tweets, revealing his interest in Japanese cartoon pornography, somehow upstaged former FBI Director James Comey's first Senate testimony last year.
On the same day Burleigh's bot story ran, Newsweek published another piece about the magazine management's own shady business dealings. Editorial review of the article "involved egregious breaches of confidentiality and journalism ethics" and one reporter involved ended up losing her job as a result.
Let's not forget also that Newsweek was so convinced of a Hillary Clinton triumph that it had actually printed a special edition – titled 'Madam President' – and even "mistakenly" sent it to some distributors ahead of the November 2016 election. The issue is now a collector's item, selling for up to $75 on eBay.
All of this paints the picture of a once-respectable magazine falling prey to clickbait, sketchy editorial and management practices, and hyper-partisanship that has gripped American media ever since Trump's surprising triumph.
One particular symptom of this is the uncritical reliance on the Alliance for Securing Democracy and its "Hamilton 68 Dashboard." Journalist Glenn Greenwald, who has followed the outfit since it was set up by leading Democrats and neocons in July 2017, called it "the single most successful media fraud & US propaganda campaign" he had seen in years of covering US politics.
As for Franken, it was Senate Democrats who pressured him to resign, which he did in December 2017. Minnesota Lieutenant-Governor Tina Smith was appointed to fill his seat, and was sworn in on January 3. She will run to keep the seat in November and will have to run again in 2019.
Like this story? Share it with a friend!
You can share this story on social media: