'Breaking point in relations with US' – Turkish FM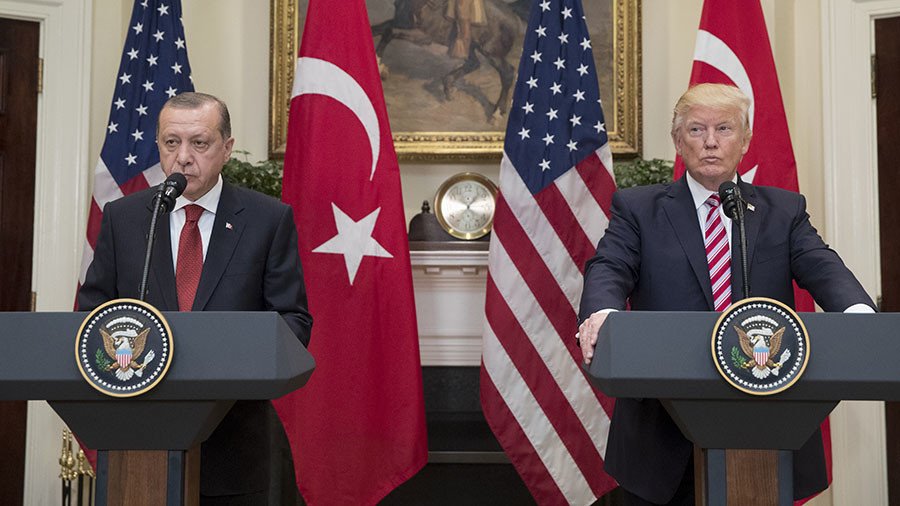 Turkey is "at breaking point in relations with the US," Turkish Foreign Minister Mevlut Cavusoglu said. The two major NATO partners have recently been at loggerheads over various issues.
"People in Turkey have a very negative attitude towards the US because it doesn't keep its word [and] constantly lies," Cavusoglu stated addressing the students at Moscow State Institute of International Relations on Tuesday.
The relations between our countries are "at breaking point," he said, reminding that back in February both states had established working groups to normalize bilateral ties.
Cavusoglu was apparently referring to teams set up earlier over the escalation in Manbij, where Turkey is currently conducting a military operation against the US-backed Kurds.
READ MORE: Tillerson in Ankara pledges limited weapon supplies to SDF, says Manbij 'priority' in Syria
Cavusoglu has repeatedly stated that strained relations between the allies are heading towards a critical juncture. The two sides "will either fix these relations or they will break [down] completely," he said back in February. Ankara felt provoked by US military support for the Kurdish forces in Syria, including the YPG. Turkey considers the YPG an arm of the PKK movement, dubbed a terrorist organization by Ankara. Washington, however, promised to cease armed support for the Kurds earlier this year.
Turkey has right to buy arms from non-NATO states – Cavusoglu
Speaking in Moscow, the Turkish foreign minister also touched on another point of contention between Ankara and its NATO allies, namely the purchase of Russian-made S-400 missile systems.
"Turkey is a NATO member, but we are an independent state, we are not a satellite state. Other countries of the alliance can purchase weapons from non-NATO states, we have the same right and freedom," the top Turkish diplomat stated.
READ MORE: Erdogan threatens US with 'Ottoman slap,' says all NATO countries created equal
Ankara will only use the S-400s if attacked, Cavusoglu said, adding that Turkey is not planning to use the weapons during its operation against Kurds in Afrin, Syria. Washington seems to be unsure about the deal.
Back in 2017 and before the deal was even confirmed, US Defense Secretary James Mattis suggested that S-400s were "not going to be interoperable with NATO systems."
Turkish President Recep Tayyip Erdogan hit back, saying Turkey doesn't want to wait for the protection of its NATO allies. "What do you expect? Should we wait for you?" he said in September 2017.
Think your friends would be interested? Share this story!
You can share this story on social media: