Turks boast that Russian S-400 SAMs can take out American B-52s, F-22s and Tomahawks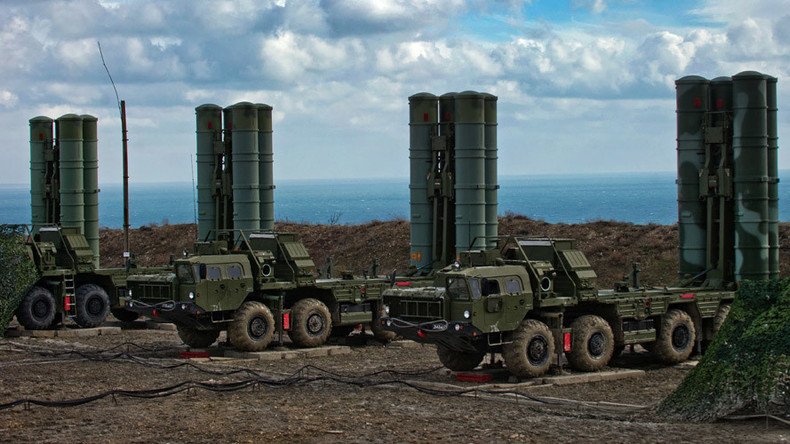 Surprising as it may be to the US, their staunch NATO ally Turkey is listing the American-made warplanes and missiles it says are vulnerable to the Russian-made S-400 SAMs it has just bought.
An infographic published on Wednesday by the state-run Turkish news agency Anadolu details the components of an S-400 battalion and the system's capabilities. Half of the picture shows aircraft the system "can eliminate".
Those include the bombers B-52 Stratofortress and B-1 Lancer, as well as the E-3 Sentry, better known as AWACS (Airborne Warning and Control System). The list also includes half-a-dozen US-made fighter jets and support aircraft, including the advanced F-22 Raptor and the E-2 Hawkeye flying radar, and two kind of tactical missiles – the Tomahawk cruise missile, and an unspecified ballistic missile.
Turkey is in the process of acquiring the S-400 system from Russia, much to the chagrin of its NATO allies. The publicity seems to imply that Turkey needs the system to defend against countries that have such aircraft in their air forces. Those would be US and its allies, among them Turkey's neighbors Israel, Saudi Arabia and other Gulf kingdoms.
NATO and individual allies, including the US, criticized Turkey for choosing a long-range air defense system made in Russia instead of one produced by the organization's members, such as the US-made Patriot PAC-3. They said the S-400 lacked interoperability and compatibility with NATO weapon systems.
Turkish President Recep Tayyip Erdoğan rebuked the critics, saying he was thinking of Turkey's safety first, and highlighting times when NATO allies failed Turkey in that regard.
"What do you expect? Should we wait for you? We take care of ourselves in every security point. We are taking precautions and we will continue to do so," he said.
Ankara seems to be increasingly distant from other NATO members over a number of issues. It has a rift with the US over Washington's support in Syria and Iraq of Kurdish militias, viewed in Ankara as a major threat to Turkey. The US also refused the Turkish government's demands for the extradition of the cleric Fethullah Gülen, accused by Turkey of masterminding an attempted military coup last year.
Turkey is also at odds with western European nations, notably Germany, which accuse the county of abusing human rights and moving towards becoming a dictatorship. Turkish and European officials have traded sharp insults over the past year.
You can share this story on social media: