Russian transport plane crashes upon landing in Syria, all 39 on board dead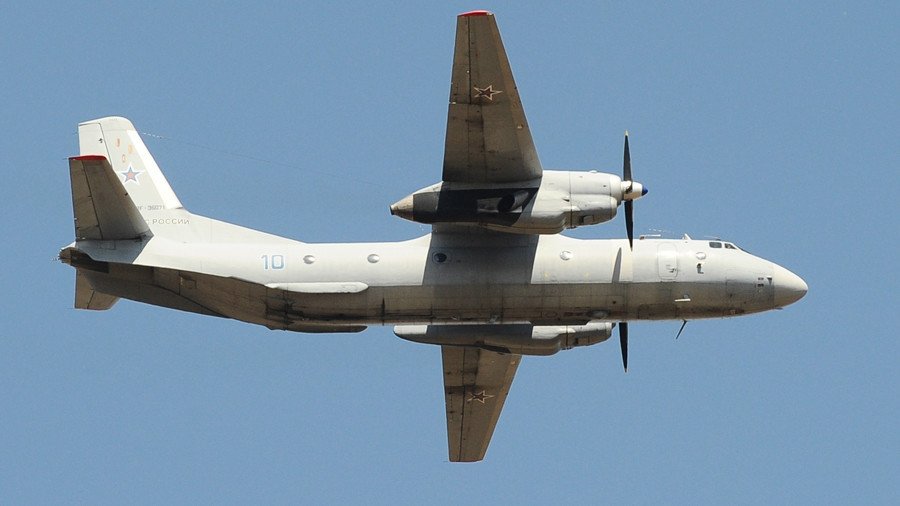 A Russian military transport airplane has crashed during landing at Khmeimim Airbase in Syria. Six crew members as well as 33 passengers, all of them military personnel, were killed in the crash.
Among the crash victims are 27 officers, one of them a major general, the Russian ministry of defense said. The aircraft commander was a class 1 pilot, who had flown some 3,000 hours in that class of airplane.
According to preliminary information, the incident could have been caused by a technical malfunction, the Russian defense ministry said.
"Around 15:00 (Moscow time, 12:00 GMT), a Russian An-26 transport aircraft crashed while coming in for landing at the Khmeimim airbase," the statement issued by the ministry said. "All those on board died [in the incident]," it added.
The airplane hit the ground some 500 meters from the runway. It did not come under fire before the incident, the Russian military said.Russian President Vladimir Putin has expressed his deep condolences to the relatives of the plane crash victims.
The Antonov An-26, also known as Curl under its NATO reporting name, is a twin-engine turboprop aircraft designed as a multipurpose tactical transport plane. It was developed in the Soviet Union in the 1960s. Some 450 such aircraft are still in service, with most of them used by the Russian military.
Russia has witnessed a number of air incidents during its anti-terrorist operation in Syria, with some of them being non-combat ones. In the previous such case, a Mi-24 helicopter crashed due to a technical fault near the Syrian Hama military airfield on New Year's Eve. Both pilots of the chopper were killed.
The most high-profile non-combat air incident related to the Russian campaign in Syria took place in December 2016. At that time, a Tu-154 plane carrying members of the world-famous Alexandrov Ensemble army choir crashed after taking off from Sochi en route to Syria. The official choir of the Russian Armed Forces was scheduled to perform at the Latakia airbase. The plane had 92 people on board, including 84 passengers and eight crew members. All those on board died.
You can share this story on social media: