64 members of world-renowned Alexandrov army band lost in Tu-154 crash (VIDEO)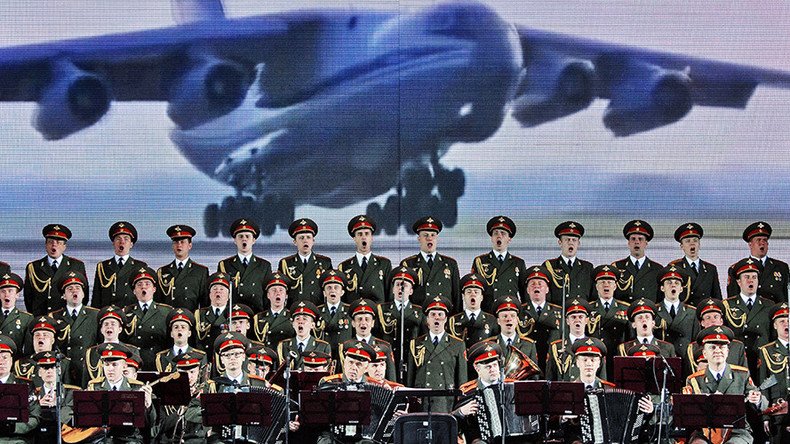 Most of the passengers on the Tu-154 plane that crashed after taking off from Sochi were members of the world-famous Alexandrov Ensemble army choir, en route to Syria to perform at the Latakia airbase.
READ MORE: Russian plane with military band crashes en route to Syria

Its immensely rich and varied repertoire of over 2,000 numbers found the key to the hearts of many people from different generations.
The official choir of the Russian Armed Forces performed many Soviet and folk songs, but in recent years, the military musicians' creativity has taken the choir to a new level of popularity.
The ensemble gained thousands of views on YouTube as they presented their take on worldwide hits, including an OST from the James Bond movie Skyfall.
With its almost 90 years of history, the Alexandrov Ensemble has gained a reputation as one of the greatest male choirs in the world. The brainchild of Maj. General Aleksandr Alexandrov, a professor from the Moscow Conservatory who set up the choir in 1928, it was until now composed of 186 people.
All members of the Alexandrov Ensemble choir, except for three lead vocalists, were on board the plane when it crashed, Vadim Ananiev, a lead vocalist from the choir, told TASS.
Ananyev told RT he woke up to a phone call alerting him to the tragedy in Sochi. "I was in shock. Couldn't believe it. I still don't believe it...
"Words fail me to express how I feel right now. I cannot fully comprehend what happened. My wife is crying, my children don't understand what happened. Think we'll probably go to a church to pray..."
Ananyev's wife recently gave birth to their third child. He asked for permission to miss one concert to help his wife take care of their newborn child.
"Should there have been several concerts scheduled to take place, I'd have definitely flown to perform, wouldn't even ask for permission to stay. It's my job. I was in Chechnya, in Yugoslavia, etc. I've never performed in Syria."
Calling the ensemble a "symbiosis," one of its lead singers, Evgeny Bulochnikov, told RT Arabic that "there can't be someone more important than the other" in their group. "The conductor is important, the orchestra, the whole choir, we do our job all together," he said earlier this year.
"Our common mission is to win the hearts of the audience both in Russia and beyond," Nadezhda Ignatieva, a ballet dancer from the ensemble, told RT.
Both artists were listed as passengers aboard the fatal flight.
The ensemble's best performers died in the crash, the grandson of its founder, Evgeny Alexandrov, told Meduza.ru. "My grandfather used to say – 'If there is no choir, there is no ensemble.' Half of our artists stayed in Moscow, but the best ones perished. They traveled a lot, flew all around the world, and died in Russia," he said.
Relatives, as well as artists, are flocking to the building in the heart of Moscow, where the ensemble worked, to pay their last tributes. They are all in shock, Komsomolskaya Pravda newspaper reports.
EDITORIAL NOTE: An earlier version of this article incorrectly featured some videos showing a different Russian Army choir performing international hits.
You can share this story on social media: