Man stoned to death for adultery by thriving ISIS cell in Afghanistan
Published time: 2 Mar, 2018 01:38
Edited time: 12 Mar, 2018 14:08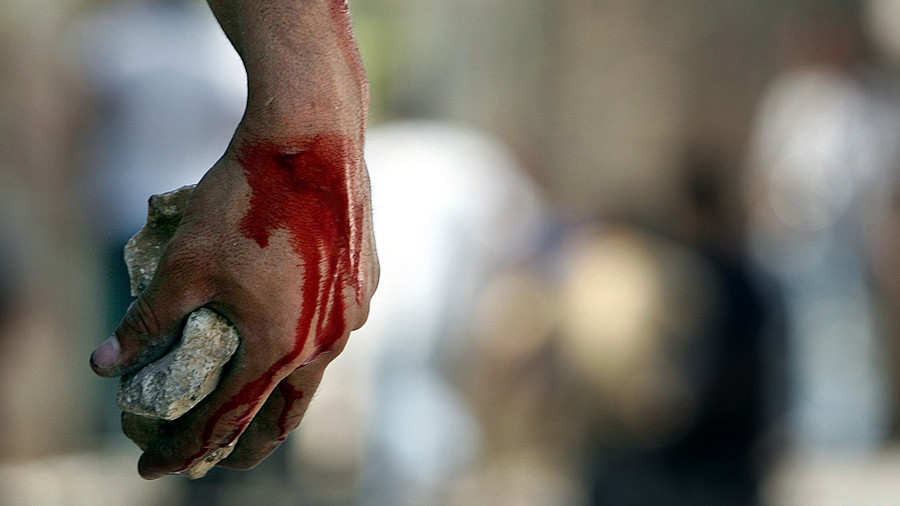 Brutal images emerged online showing a crowd stoning a man to death for alleged adultery in eastern Afghanistan. It comes as Islamic State appears to be reemerging, while the US and allies have shifted their focus to the Taliban.
The Khorasan Province faction of Islamic State (IS, formerly ISIS/ISIL) in Afghanistan reportedly released pictures of a public slaying that took place in Wazir Tangi in Nangarhar, according to the AhlulBayt News Agency (ABNA).
READ MORE: Shocking footage shows alleged Libyan children mimicking ISIS-style execution (VIDEO)
The gruesome photographs show a crowd of men and boys in a semicircle under the IS flag, with stones ready in their hands and more lying by their feet. In front of them is a blindfolded man in a black robe on his knees with his hands tied behind his back. In the next photograph, the man is seen lying on the ground with massive stones scattered around him while the crowd continues to hurl rocks at him.
The victim had reportedly been sentenced by IS "officials" to be stoned to death for committing adultery, the ABNA reported, citing pro-IS social media accounts. What appears to be the man's body wrapped in a cloth is seen in another photo, captioned "It will be taken to a Muslims' cemetery."
The news comes as Russia and Pakistan have repeatedly raised alarms over "the strengthening of ISIS' position in the north and east of Afghanistan," which they say continues to increase.
"Approximately a thousand terrorists" are currently in the country while "the US and NATO forces in Afghanistan fail to mention this danger," Russian Foreign Minister Sergey Lavrov said in February, criticizing the US presence in the country and their new strategy as "leading to nowhere."
Despite the warnings, the US has seemingly shifted its focus in Afghanistan to the Taliban jihadist militant group, following several blows that were delivered to IS last year. In April 2017, the US military claimed there were only some 700 IS militants left in the country after dropping its biggest non-nuclear 'mother of all bombs,' that targeted an Islamic State cave complex in the Achin district of Nangarhar. In June 2017, the US claimed it killed the head of IS-Khorasan group in an airstrike, stating that his death "will significantly disrupt the terror group's plans to expand its presence in Afghanistan."
These blows, however, proved to be not as effective as Washington presented them, as the terrorist group retained the ability to strike repeatedly, including in the very heart of Afghanistan – the city of Kabul. One of the largest attacks occurred in December, when an IS suicide bomber targeted a Shia cultural center in the capital, killing over 40 people and injuring some 80 more.