Western media accuses Putin of 'starting new arms race' after 'terrifying' nuclear missile 'boasts'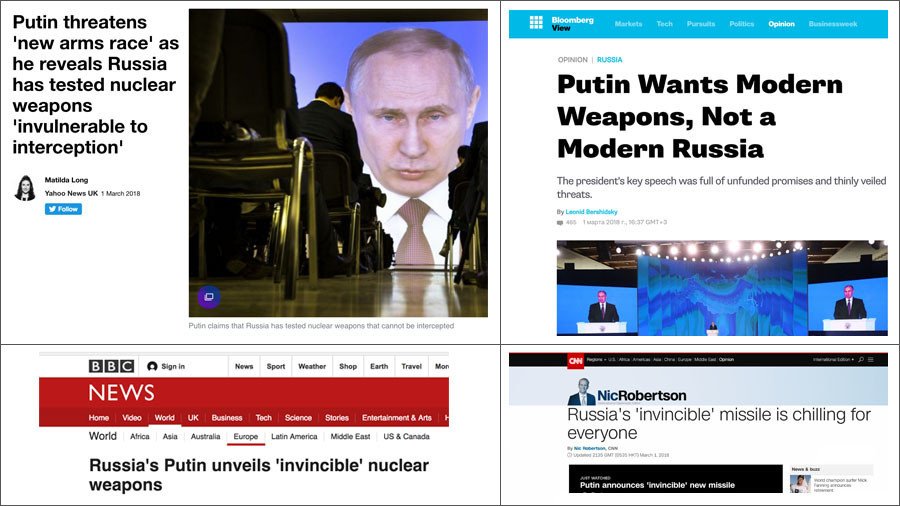 Unsurprisingly, Western news outlets focused on only one short segment of Vladimir Putin's two-hour speech on Thursday, reframing the state-of-the-nation address as a (nuclear-tipped) sabre rattle in front of a watching world.
In his message to Russia's Federal Assembly, Putin spent around four minutes on the new-generation Sarmat ICBM, and on an as-yet-unnamed nuclear cruise missile. The Russian President, who is facing re-election later this month, emphasized that both of these systems have almost unlimited reach, and are invulnerable to interception in-flight.
READ MORE: Russia's successes & challenges: Putin's State of the Nation address in detail
Putin reminded that Moscow promised as far back as 2004 to upgrade its nuclear capabilities as a means of deterring NATO from constructing a missile defense shield close to Russia's borders. Since then, US missile defense bases have been built in Romania and Poland. Putin complained that "no one wanted to talk to us then, no one listened."
"Listen to us now," he said on Thursday to applause.
READ MORE: US deployed 5 cruisers, 30 destroyers near Russian borders as part of missile defense system
But while the Russian leader's words definitely caught the international media's attention, whatever diplomatic intent was behind them went unheeded.
Almost every major mainstream outlet included references to "a new armsrace" or a "new Cold War," either in the text or the headline, while the Daily Beast accused the Russian leader of "boasting."
CNN's International Diplomatic Editor said that Putin's words sent out a "chilling message for everyone."
"It is bombastic talk in the extreme: a waggling of military parts in the faces of other nations, most likely right now the United States, whose own commander in chief is massively ramping up defense spending while downsizing his diplomatic power," he wrote.
Putin "wants modern weapons, not a modern Russia," boomed Bloomberg's headline.
"Without a coherent vision of the future or an attractive model for others to imitate, without any soft power to speak of, without an economic model that can ensure sustainable growth or keep people out of poverty the missile-rattling is a terrifying but hollow sound," wrote expat Russian journalist Leonid Bershidsky.
"There was a double message here. Firstly, to the West: Don't push us. And, with elections coming up, there was this for the Russian people: Vote for Putin and you'll be voting for national security," wrote Steven Rosenberg, a BBC News correspondent in Moscow.
'Time for Trump to stop pretending he can be friends with Vlad'
Many drew parallels between Putin and President Donald Trump.
"Welcome to the new nuclear arms race. Putin announces 4 new nuclear weapons to answer the 3 new nuclear weapons US announced last month. This will not end well," Joe Cirincione, President of Ploughshares Fund, a foundation that fights against the proliferation of nuclear weapons, posted on his Twitter.
Jennifer Griffin, a Fox News security expert, said that Pentagon sources admitted that Putin's cruise missile plans were "nascent" but credible, and confessed they were in part a response to US actions.
"US officials tell me Russia is 'worried' about the Pentagon's plans to develop two new tactical nuclear weapons. Putin's speech ahead of election next month response to the Trump administration's plan to expand its nuclear arsenal, officials say," she tweeted.
Former US Ambassador to Moscow Michael McFaul suggested that a new nuclear control treaty restricting Moscow is now necessary.
"Putin's announcement today about his new nuclear weapons aimed at us should be a wake up call to Trump. Time to stop pretending that Vlad can be His friend. & also time to restart arms control negotiations with Moscow. New START treaty needs amendment now. Immediately," tweeted McFaul, unintentionally echoing Putin himself, who, in his address, bemoaned the US decision to exit the Anti-Ballistic Missile Treaty in 2002, prior to the start of its missile shield construction.
Others took a more light-hearted approach, using Putin's speech for (predominantly anti-Trump) gibes.
"President Vladimir Putin has developed an attention seeking nuclear missile that falsely gets elected and gradually destroys its target through total and utter embarrassment," tweeted documentary producer Jeremy Newberger.
"Today Putin announced the invincible nuclear missiles that he'd been texting Donald Trump about for two years," wrote comedian Tommy Campbell.
You can share this story on social media: