Angolan army dance in Siberian city on Russian national holiday (VIDEO)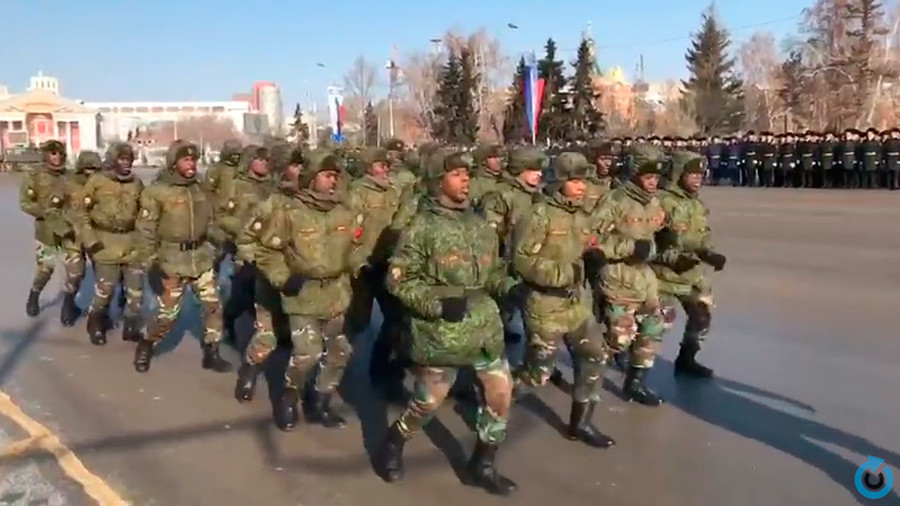 What are the odds that African soldiers will march through a Siberian city on a freezing mid-winter holiday? Higher than you might think.
Members of the Angolan military jauntily paraded through the Siberian city of Omsk as part of celebrations to mark Russia's Defender of the Fatherland Day.
The chilly negative 14 Celsius temperature didn't stop the African troops from marching in Omsk's Cathedral square as part of celebrations for the national holiday, which is colloquially called "Men's Day" in Russia.
The Angolans are studying at Omsk's Automobile Armored Engineering Institute. During the display, the soldiers performed the Angolan national anthem and showcased their combat techniques.
Russian news outlet Omskzdes.ru captured video of the unusual scene.
On Defender of the Fatherland Day, various ceremonies and parades involving veterans are held in Russia. One of the holiday traditions involves the laying of wreaths at the Tomb of the Unknown Soldier in Moscow by the Russian president and other political, military and religious leaders.
The holiday honors military servicemen and men in general. Women also give small gifts to the men in their lives. During the Soviet era, the holiday was celebrated as Soviet Army and Navy Day, but in 1993 it was renamed Defender of the Fatherland Day.
Think your friends would be interested? Share this story!