Crimean lawmakers seek to remove 'none of the above' candidate Sobchak from presidential race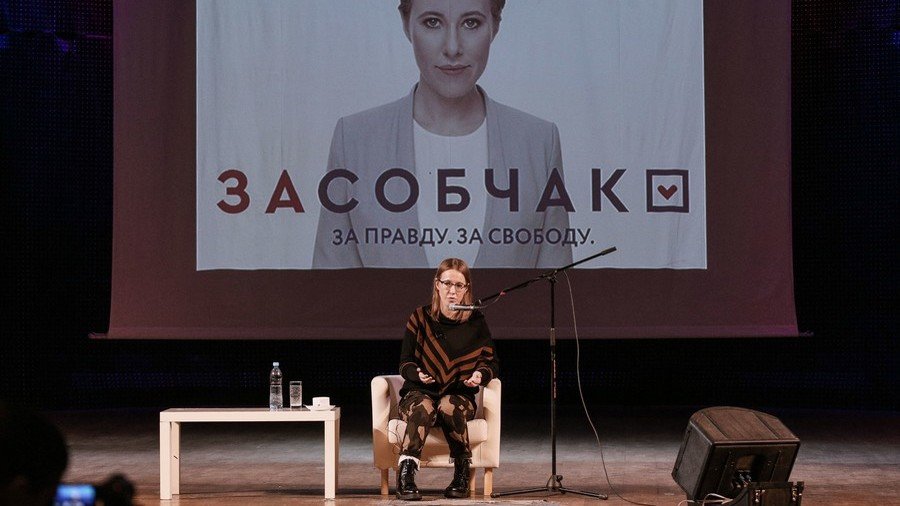 Lawmakers from a district council in Sevastopol have asked the Central Elections Commission to exclude candidate Kseniya Sobchak from the upcoming election due to her allegation that "Crimea is Ukrainian."
RIA Novosti quoted the head of the municipal council of Sevastopol's Nakhimovsky District, Mikhail Britsyn, as saying that the request was passed by a unanimous vote and was already forwarded to the Central Elections Commission.
Sobchak made the controversial statement in October last year, and soon afterwards, the magazine editor, TV host and socialite first announced her presidential ambitions.
"From the point of international law, Crimea is Ukrainian. Period. Let us move on with our conversation," RIA Novosti quoted Sobchak as saying at a press conference. She acknowledged, however, that the overwhelming majority of Crimeans supported reunification with Russia in 2014.
Sobchak reiterated her position in a November interview with CNN, saying that she personally considered Russia responsible for the current poor state of international relations, and calling the reunification of Crimea and with Russia a violation of international law.
Before embarking on her political career, Sobchak expressed very different political views. In March 2015, she told the Polish edition of Newsweek that she considered the discussion over Crimea to be over, as Crimea had become a part of Russia and any further discussion whether it should be returned or not made no sense.
Sobchak also asked the Russian Supreme Court to cancel Vladimir Putin's registration as a candidate in the 2018 election. Sobchak accused Putin and longtime ally Prime Minister Dmitry Medvedev of alleged "conspiracy to grab the presidential post for their group for a long period of time or indefinitely."
In mid-February the Supreme Court rejected Sobchak's lawsuit.
Sobchak is running on the ticket of the minor political party Civic Initiative, but is positioning herself as an option for those who would prefer to fill the no-longer-existing 'none of the above' line on the ballot papers.
The Crimean Republic reunited with the Russian Federation in mid-2014 after more than 96 percent of its population – the majority of whom are ethnic Russians – approved the move in a referendum. The decision was prompted by events caused by the ousting of the democratically elected president of Ukraine during a violent coup in Kiev.
Public opinion polls conducted in recent years have shown that the overwhelming majority of Crimea's population believe that reunification with Russia was the right choice.
You can share this story on social media: