Half-naked hero: Brave Russian blitzes thief to foil parking lot robbery (VIDEO)
Published time: 27 Feb, 2018 16:26
Edited time: 28 Feb, 2018 09:43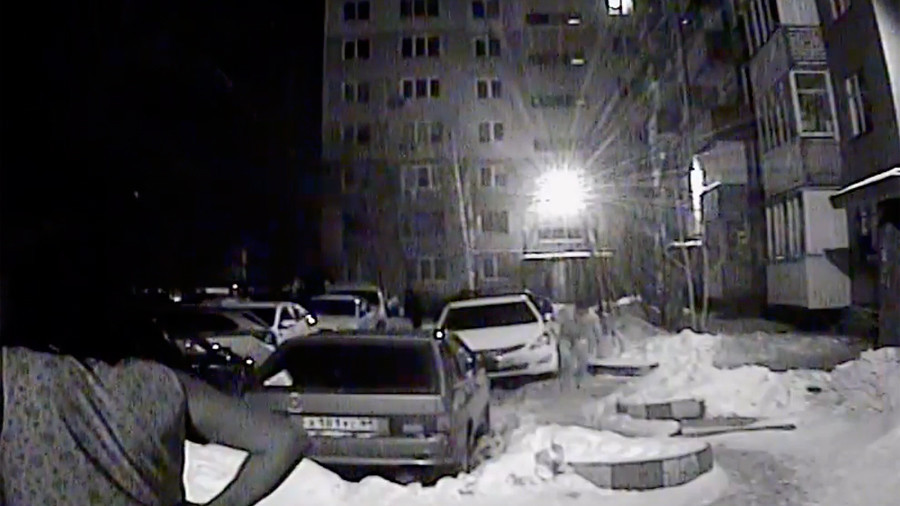 A Russian man fears neither criminals nor sub-zero weather. That's the major takeaway from bizarre CCTV footage showing a half-naked hero deliver justice in a freezing cold parking lot during the night.
The incident reportedly occurred in the early hours of February 15 as ice-cold temperatures gripped the city of Saratov, in south-eastern Russia. Black and white CCTV footage captures the frantic moment a seemingly-opportunistic thief struck, covertly entering an apartment building and grabbing a bag of cash.
Having snatched the bag containing some 700,000 roubles (€10,180; $12,600), the thief makes haste in fleeing the scene, with notes spilling all over the ground as he runs. His victim gives chase through the car park of the apartment complex.
Seconds later a woman and a younger man, reportedly the robbery victim's wife and son, are seen stepping out from the building – with the the young man sporting nothing but his underwear. Despite the chilly conditions and his lacked of clothes, he also gives chase.
A struggle between the victim and the assailant follows before the underwear-clad man – apparently impervious to the freezing conditions around him – comes to his father's aid and fends off the thief. The would-be robber runs from the scene empty-handed.