Seriously injured 15yo cousin of Ahed Tamimi arrested by Israeli soldiers (VIDEO)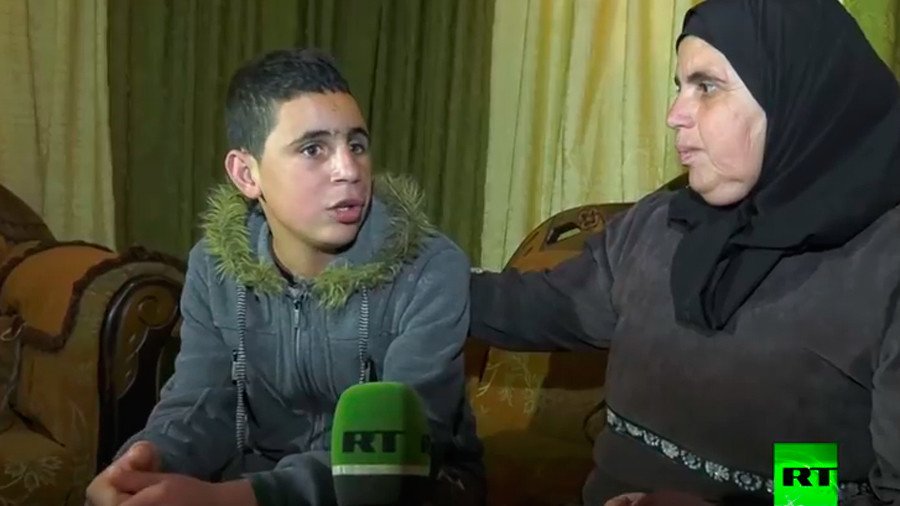 A teenage cousin of jailed Palestinian activist Ahed Tamimi was reportedly arrested by Israeli soldiers in a pre-dawn raid Monday. The 15 year old had part of his skull removed after being shot by an Israeli soldier in December.
Haaretz reports that Muhammad Tamimi was among 10 Palestinians, including five minors, taken from his bed in the middle of the night in the West Bank village of Nabi Saleh. Tamimi was seriously injured on December 15, 2017 when he was struck in the head by a rubber bullet fired by an Israeli soldier.
Tamimi's head injury is thought to have been the catalyst for Ahed's actions. About an hour after Muhammad was shot, his cousin slapped an Israeli soldier in an incident caught on camera. Her trial began last week behind closed doors and she is due in court again in March.
She faces up to 10 years in prison if convicted. Since her arrest, Ahed Tamimi has quite literally become a poster child for the Palestinian struggle against Israeli occupation.
Muhammad was reportedly in a coma for four days and underwent two operations to remove the rubber bullet which had lodged in the back of his brain. The teenager is currently awaiting cranial reconstructive surgery and cannot attend school or leave his house for at least six months. Despite this IDF soldiers entered his home in the middle of the night and placed him under arrest.
His family has refuted claims by Coordinator of Government Activities in the Territories (COGAT) Major General Yoav Mordechai that the teenager said his head injuries had actually been caused in a bike accident. Mordechai said the 15 year old made the comments while being interrogated after his arrest on Monday. The Tamimi family refuted the claims by releasing medical records stating he suffered a bullet injury.
Residents of the Nabi Saleh believe that the latest arrests are revenge against the Tamimi family for their activism and the wider village. Speaking to Middle East Eye following his release after Monday's raid, Mohammad accused Israeli soldiers of trying "to put words in my mouth to confess names of people, because they knew I was scared of being kicked and them touching my head." RT has reached out to the IDF for comment.
If you like this story, share it with a friend!
You can share this story on social media: